Local Jazz Producer Records Live CD at Arts Exchange
We are part of The Trust Project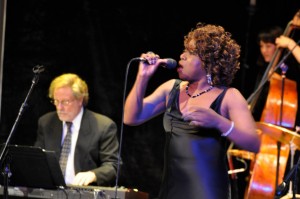 Having spent a 50-year career in the jazz industry as a teacher, producer and performer, White Plains resident Dennis Bell wanted to find the perfect venue to perform locally but felt the larger performance halls, like the Performing Arts Center in Purchase, wouldn't bring the right atmosphere.
"You can't do jazz in big halls," Bell, an adjunct professor of music at Mercy College, explained. "Ideally, you would do it in a smoky club."
The next best thing turned out to be a converted bank. In 2009, ArtsWestchester teamed up with NewUrbanJazz for a program that brings local jazz talent to White Plains and in 2010 Bell and his band did a show at the Grand Banking Room Gallery at the Arts Exchange on Mamaroneck Avenue. They sold the place out and Tom van Buren, AW's director of performance programs, asked them to come back the next year.
Bell was teaching down the street at Mercy, where he'd been working with aspiring producers.
"I have kids that want to become producers and engineers," Bell recalled. "They're always in the studio but they never record anything live, which is a whole different way of recording."
Bell sat down with Paul Steinman, the head of Mercy's Music and Media Arts Program, and decided to give Bell's students a shot at recording his band's January 2011 concert at the Arts Exchange. If the recording came out well enough, Bell would turn it into a CD.
"The biggest difference is that there's no takes doing live recording," said Steve Bangs, a Bronx resident and one of Bell's students. "There's an awful lot of prep time that goes into a live recording that isn't really an issue in a studio recording because you can always do it over."
The CD, called "Live at the X!" will be released Jan. 1 and is already available on iTunes.
The lead singer on the CD is Lynette Washington, an accomplished jazz, gospel and R&B singer and Bell's sister-in-law. The show celebrated the music of jazz legends like Miles Davis, Sarah Vaughn, Carmen McRae and Shirley Horn.
"The CD is designed, really, to bring attention to ArtsWestchester and the music series," Bell said.
Sam Stauff, who graduated Mercy in 2009 and works with Bell as an engineer, said he's recorded live albums before but that recording at the Arts Exchange presented unique challenges.
"Live you only get one shot," said Stauff. "If there's any glitches with the computer, if there's any bad performances with the artists, you don't get to redo anything."
Bell, who has lived in White Plains since 2002 and has worked at Mercy since around 1997, said his passion for jazz began at a young age.
"My father was a pianist, so we had a lot of Jazz records around the house," he said. "I was very young when I heard my first jazz records."
Bell has had an extensive career as a performer and a producer. He started his career playing keyboards throughout the country but quickly found that a life on the road wasn't right for him.
"One night it was going 1,000 miles, jump off the bus and play a gig, get back on the bus, go another 1,000 miles," he remembers. "It was the kind of thing I didn't think was for me, and I made the decision pretty early in my 20s."
Bell then discovered teaching, and discovered that he loved imparting his wisdom to aspiring musicians and still had time to play locally at night.
"The great thing about teaching is that it ends at 3," he said, "and the music industry doesn't even wake up until 5 o'clock, so I continued to do my art."
In the 1970s, Bell began his career in production. As a producer, he's worked with legends like U2, Slick Rick and Doug E. Fresh, appearing on classic tracks like La Di Da Di and The Show.
"I think jazz really helps you to do these kinds of things, because Jazz is really the mother and father of all modern music," Bell said. "All the genres you hear today are just the children of jazz and blues."
For more information on Bell or to purchase the CD visit www.guavajamm.net or itunes.com. For more information on ArtsWestchester, visit www.artswestchester.org.