Local Business Owner Helped in Mahopac Murder Probe
When Steve Wittels, co-owner of Aljans Jewelers in Mahopac, came into his jewelry store on April 27, little did he know a brief interaction he had that day would later result in Town of Carmel police officers coming to his store the next day as part of a murder investigation.
Mahopac resident Perla Gatchalian was found dead of an apparent homicide on April 27 with her daughter's father-in-law the suspect in the slaying, according to Carmel police. The suspect, Filippo Buffone, committed suicide last Tuesday. Wittels, who has owned Aljans with his wife since 1975, might have been one of the last people to see Gatchalian alive when she walked into the shop the same day she was killed.
Wittels came into the store earlier than usual after dropping his wife, Alice, off at a train station in Westchester County. After finishing a sandwich mid-morning, he saw Gatchalian walk into the store with an unidentified man. Nothing seemed out of the ordinary except she was with a person this time.
"She was never with a person," Wittels said of the past occasions she shopped at Aljans. "Always by herself."
The man, who never spoke, was at the store to look at jewelry, Gatchalian told Wittels. After about 15-20 minutes, the pair walked out without buying anything. The only thing Gatchalian did was tried on a red coral ring, which she had tried on in the past, Wittels said. Her behavior was normal, Wittels recalled, but something nagged him internally about the man with her. She never mentioned who he was or his name, Wittels said.
"I had a weird sense he didn't belong," Wittels added. "It was a matter of not belonging with her."
Once they left, it was out of Wittels' mind until the next day when his wife read online that Gatchalian had been found dead of an apparent homicide. His wife and another customer encouraged Wittels to call police because it was odd that Gatchalian was with a man when she walked in the day before and later found dead. When he called the Carmel police station, a few investigators shortly arrived Friday afternoon.
He described the man who walked in with Gatchalian to police as an older gentleman in his 60s who simply seemed like an "average joe." Wittels said besides a description of what the man looked like, police asked if Wittels saw if the man had his hands in pockets, which Wittels didn't know.
From Wittels' interaction with the officers, he believes he provided authorities with a new clue because they told him what he provided was "really good information." He isn't sure if the man in the store with her was Filippo Buffone, the suspect Carmel police pointed to in Gatchalian's murder.
Attempts to reach Carmel Police chief Michael Cazzari were unsuccessful as of late Monday with an email to the chief going unreturned. During a press conference last week, Cazzari said he could not divulge a firmer timeline of events because the investigation is ongoing, though he said police believe Buffone is the only person responsible for the crime.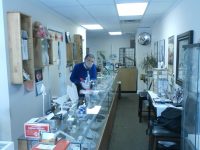 Wittels was struck with the thought that he could have been one of the last people to see Gatchalian alive. Wittels said when he asked one of the investigators about homicides in Mahopac, an investigator told him the last one was roughly four years ago, but "this (murder) is different."
Wittels will remember Gatchalian, a grandmother of three fondly. She was friendly anytime she walked into the shop.
"She was a nice lady," Wittels, who would chat with her anytime she came to the shop, said. "A pleasant lady."