Local Brewster Non-Profits Work to Get Southeast Tree Lit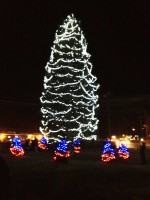 Budget cuts forced the Southeast Town Board to stop funding the annual lighting of the town's holiday tree a couple of years ago. This year thanks to the collective efforts of many of the local non-profit organizations the holiday tree, which is located the triangle-shaped parcel on Route 6 and Sodom Road was lit once again on Sunday, Dec. 2.
According to Erin Meagher of the Brewster Rotary Club, fellow Brewster resident Joe Ruszkowski spearheaded the idea.
"Joe Ruszkowski was key in getting all of us together to get things done for Southeast," said Meagher. "Without his leadership and dedication to this cause it wouldn't have been possible." There were no public funds used so it didn't cost the taxpayers anything. Instead the Rotary club as well as the Brewster Chamber of Commerce, Brewster Elks, Putnam County Italian American Club, Knights of Columbus, Brewster Fire Department, Brewster Lions Club as well as other groups raised funds independently to get the Southeast tree lit along with the small red
and blue patriotic trees surrounding the large spruce.
All of the lights are energy efficient LED lights and were installed by the Italian American Club, the Brewster Fire Department, and Bill Henry's Tree Service.
"This was the first time many clubs have gotten together to meet and it was a great community effort we can all be proud of," said Meagher. "Over the past few months we've attended one another's events and dedicated time and effort to get the tree lit as well as formed new friendships among the clubs."
The effort was so successful that the collective group will start meeting in January to try come up with ways to bring back the Independence Day fireworks for Southeast.