Local Author Pens Provocative Novel, Introduces "The Games Men Play" Series – Includes VIDEO Interview
We are part of The Trust Project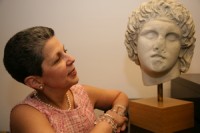 Framed within the world of male physicality, power and wealth, Westchester author Georgette Gouveia's new novel "Water Music" captures the essence of masculine competition and camaraderie as it affects the intimate lives of four men and is played out on the world stage through professional sports and global events.
Gouveia, former senior cultural writer with Gannett Inc. is currently the editor of WAG magazine. "Water Music" is her debut novel and the first title in "The Games Men Play" series.
Fascinated by the world of men and how their gender has held power in society through millennia, Gouveia's years of experience in Arts & Entertainment and Cultural publishing along with extensive travel overseas have put her into the unique position of being able to observe up-close relationships among men and how their personal interactions have an impact on the worlds of politics and business.
"As a writer, I am also an observer," Gouveia said. "I like to sit back and reflect on the experiences I have, analyzing what I have seen and then asking: 'What was that all about?'"
Gouveia has previously written short stories and poetry, and authored "The Essential Mary Cassatt" published by Harry N. Abrams Inc./Wonderland Press.
When she began writing "Water Music" Gouveia says the story took on a life of its own.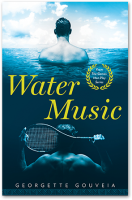 "Sports and politics often reflect each other," Gouveia notes. "At the Olympics the athletes play each other, but it is the different countries that file protests on behalf of players or their teams."
"On the personal, national and international levels the past influences the present," she continued. "The choices made create a thread of events and the way people are living is a consequence of those choices."
This theme is a big part of the story in "Water Music."
Through her own experiences and by watching the way people express grief and loss, Gouveia has seen the redemptive quality of love and its role in the ultimate acceptance of one's situation and its healing power in relationships. This too has been worked into the story and plays a major role in the transformative expression of Water Music's main characters.
As a woman of intelligence and strength, Gouveia has experienced first-hand the challenge of running the gauntlet in a world controlled by men.
"I have experienced the best and the worst of men," Gouveia said. "Every woman has experienced sexism. Sometimes it can be horrific. In general, we have seen in society many groups that have oppressed other groups. There have been all kinds of cultural shifts. But women are not a minority and still they only earn 77 cents on the dollar."
"However, men have evolved, women have evolved," Gouveia contends. "We are more open-minded. The sexes are more curious about each other and less interested in battling with each other."
Gouveia addresses these issues by removing women from the immediate relationships in her story. By focusing on male characters, the female gender can begin to look at the world of men in a different way.
Characters Daniel and Dylan are the top swimmers on earth, Alex and Alí, the top tennis players. They play for God, country, family and the need to escape their troubled and shrouded pasts. In their quest to be the best, they also harbor a secret: Each is in love with his rival. The four hit it off at the Summer Olympics in New York and reconnect on an island vacation. By then, the shifting professional fortunes of each couple have begun to signal a change in their personal relationships as well, one that will lead them to new alliances, engulf them in betrayal and poise them for tragedy.
The story is passionate, perceptive and provocative.
Gouveia says men have been very supportive of her work, but she expects about 80 percent of her readership group to be women, with a gay and sports audience as well.
Gouveia maintains a blog, thegamesmenplay.com, where she comments on current events with insight and humor. "Water Music" can be purchased through the site, at Barnes & Noble and amazon.com.
To view a 30 minute interview with Georgette Gouveia on Examiner News Talk click here