Local Artist Displays Pen and Ink Works at Mount Kisco Library
We are part of The Trust Project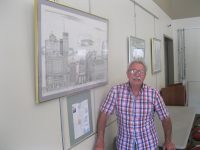 There are many ways for carpenters to use their break periods on the job.
Mount Kisco resident Andre Ferrara used his breaks to create and pen drawings of buildings in New York City, including ones he helped to create.
An exhibition of 14 pieces of his artworks is on display during the month of August at the Mount Kisco Public Library. Ferrara noted last week the library hosted his works during a 2015 exhibition.
"I have some new drawings," he said. "Everything is in pen and ink" and most of the drawings are about buildings he either helped construct or that he saw while working in New York City.
"Every place that I used to work had a beautiful view of the buildings," he said.
Some of the buildings and other structures featured in his current exhibit included in his black ink creations are Wall Street, the Statue of Liberty, the Brooklyn Bridge, Times Square, Riverside Drive Church, the Cathedral of Saint John the Divine and the World Trade Center, in which he worked on the 57th and 107th floors. "From the 57th floor I drew the Woolworth Building," Ferrara said.
Ferrara, who retired as a carpenter in 1997, worked on the roof of what is now known as Trump Tower.
Although he has also done oil paintings, Ferrara said he particularly enjoys working with pen and ink because it was convenient for him to create during lunch and after work hours. "I used to have my pad with me" at his work sites, he said. After he sketched on site, Ferrara said he would go home and redo the work on his eight-foot-by-four-foot drafting table, which allows him to have the precision in the lines of his drawings.
His current exhibit also includes two color pen and ink drawings, one of a tiger and another of a leopard.
Ferrara said the complete process of creating one of his pen and ink drawings can take up to 14 months.
"Little by little I redo at home," he said.
Ferrara said he enjoys the challenge of creating his artworks.
Ferrara said he was present when Philippe Petit made his high wire walk between the Twin Towers of the World Trade Center on Aug. 7, 1974. "I talked to him," Ferrara remembered. Petit told him, "When I see two towers, I've got to cross the towers. For me, when I see a building, I have to sketch a building," Ferrara said.
The Mount Kisco Public Library is located at 100 E. Main St. For more information about the library call 914-666-8041 or visit http://www.mountkiscolibrary.org/.