Lights, Camera and More Action in Harrison As HBO Series Films at Police Headquarters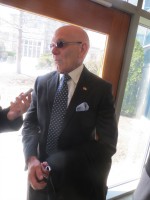 By Jon Craig – Fans of the hit television series "Lost" will be pleased to hear the show's creator is filming a new series for HBO that includes public sets in the Town of Harrison.
"The Leftovers" takes place in the wake of a global "Rapture "and centers on the people who were left behind in a suburban community.
This Friday, a Warner Brothers Production crew will film from Harrison Police Headquarters on North Street (Route 127) just off the Hutchison River Parkway. To defray the inconvenience, a donation of $3,500 went to Police Chief Anthony Marraccini to be spent at his discretion.
The TV series, scheduled to air this summer, is based on the bestselling book by Tom Perrotta. It's being produced by Damon Lindelof. The cast includes Justin Theroux (yes, Jennifer Aniston's ex), Liv Tyler, Christopher Eccleston and Amanda Warren.
"They've been filming extensively in town,'' Harrison Mayor Ron Belmont said at Thursday's regular meeting of the town and village board. "They've been filming here several months."
And if you want to stay up-to-date, did you know that parts of "The Wolf of Wall Street" was filmed in Harrison office buildings? The "Leftover" television project marks the first time in recent memory that the filming will take place in public buildings. "We've had quite a few movies filmed in town," Belmont boasted.
In other developments at the Town Board meeting, Glenn Dahar complained during a public hearing about continued noise at the Lake Street Quarry in West Harrison.
Dahar, who lives near the quarry, said his family has had to endure noise, dust, odors and other disturbances from the quarry-turned-compost and recycling center since 2000. "Can't we put a stop to this and stop it at the source,'' Dahar asked.
Town Trustee Stephen Malfitano, Supervisor Belmont and a town attorney told Dahar that Harrison is embroiled in active litigation against the quarry, so is limited in what could be discussed publicly.
"We'll do what we can to remedy the situation,'' Belmont said. "We'll do what we can between the police department and building inspector. We'll try to put an end to this."
Dahar told town officials and the police chief, "I actually feel bad dragging a police officer into it."
But Chief Marraccini encouraged Dahar to continue to complain about any suspected violations including middle-of-the-night activity so that the town has a record of problems at the quarry.
Quarry owner Lawrence Berrengo has said his business has been operating since 1922, a year before Harrison's zoning laws were adopted, exempting it from most town regulations.
The village board, meanwhile, plans a public hearing in April on creating a landlord registry. Similar to ones in Mount Kisco and Port Chester, Belmont called it "well needed." The mayor said during this rough winter it would have helped to know exactly who owned what rental properties when it came to clearing snow.