Legislators Say Money Questions at Tilly Foster Need to Be Answered
We are part of The Trust Project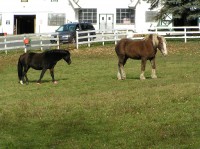 The lack of proper financial reporting by the nonprofit that operates the county-owned Tilly Foster Farm became a major discussion topic at the Putnam County Legislature's Physical Services Committee meeting on June 19.
The Society for the Preservation of Putnam County Antiquities and Greenways, Inc., which manages the farm, submitted financial reports 2008 through 2010 and tax returns to the legislature this month after Physical Services Committee Chairwoman Legislator Dini LoBue made a request for the information.
Both the society and Putnam County have been named in a lawsuit that alleges that the society has not lived up to the obligation included in the language of the 40-year lease it has with the county to provide quarterly and annual financial reports to the legislature. In opening the discussion at last week's committee meeting, LoBue said what the society provided was incomplete.
"I read through this and to me this is not sufficient," she said. "I'm not interested in tax returns. I'm interested in all revenue generated against all expenditures."
In addition to tax returns, the society submitted annual financial statements for 2008 through 2010 that were prepared by an accounting firm. While the statements for 2008 and 2010 were labeled as "audits," the accounting firm termed the 2009 statement only as a "review." In the statements, revenues were lumped together into categories of government grants, contributions, rental income, farm activities and miscellaneous.
Among the farm expenditures listed in less than two dozen categories, were labor, feed and hay, repairs and maintenance, events, animal transport and veterinary services and museum and store expenses, among others.
Legislator Richard Othmer, a Physical Services Committee member, questioned LoBue on what she was seeking.
"What do you want to accomplish? I don't understand where you are going with this? What is your purpose with this?" Othmer inquired.
LoBue said she wanted a more detailed breakdown of the money that was being taken in at the farm and how much it cost to operate it.
Legislator Sam Oliverio, who does not sit on the committee but attended the meeting, agreed.
"We are doing our due diligence…we need to have this information," he said. "There were a lot of conditions [in the lease agreement] to protect the taxpayers and us…the conditions have not been met."
In May, Southeast resident Ann Fanizzi, who was a major contributor to getting the farm up and running, filed a lawsuit in an effort to break the lease between the county and the society because of inadequate financial reporting.
Legislator Carl Albano, another committee member, said he agreed more detailed financial reporting should be provided. He also said that he wanted to see a detailed accounting of how much the county was spending annually to keep the farm going. If it was too costly, he suggested the farm could be closed and turned into a nature preserve.
"All of this stuff has to be put on paper so that we can say the agreement we put in place is enforced,"Albanosaid. "It should all be in the open and we need to know what the numbers are."
Legislator Vincent Tamagna called the operators of the farm "benevolent," and said the financial contributions made by the society's former president, George Whipple, had kept the farm operational.
"[Whipple] is going to be way on the outside of throwing money out of his wallet to keep that place going," Tamagna said. "And we all know that. To the tune of $100,000 a year."
A cover letter attached to the provided financial reports and written by Meredith Whipple, who now serves as the society's president, stated that her brother, George, "has donated for the benefit of the people ofPutnamCounty$389,701.00 from his personal funds," but did not include a time period over which those monies were donated.
The tax returns for the society, submitted with the letter and the 2008 through 2010 financial statements, dated back to 1999.  In those returns for the years 2008, when the society under the leadership of George Whipple took over the daily management and operations of Tilly Foster Farm, 2009, and 2010, it lists Whipple as having donated $185,414 to the society.
Financial information for 2011 and the first two quarters of 2012 were not included.
Fanizzi's lawsuit states that she donated $70,000 in 2008, $30,000 in 2009 and an estimated $73,000 in 2010 toward the operation, maintenance and renovation of Tilly Foster Farm. However, the society's tax returns for those years lists Fanizzi as having contributed $30,000 in 2008 and $63,200 in 2010. It identified no contribution from Fanizzi in 2009.
Fanizzi said she is not seeking to have any of the money she donated to the farm returned.
The legislature's counsel, Clement Van Ross, cautioned the legislators about speaking too freely, given that the matter is under litigation.
"So I can't discuss the financials that he gave us?" LoBue asked.
Van Ross said that he was unsure of the relevance of such a discussion.
"I'm not satisfied with the information, or lack of information…I could go at this and tear it apart. I mean this is tissue paper. There is nothing here, basically," LoBue said.
Oliverio agreed.
"It's our obligation to monitor and oversee the farm," he said, adding that a letter should be sent to the society asking for more detailed financial information. "It is our constituents' property. We don't own it. Mr. Whipple doesn't own it. It is owned by everybody inPutnamCounty."
Although Othmer said he agreed with the suggestion made by other legislators for  more detailed accounting, he asked LoBue why she was apparently withdrawing her support. He said she had encouraged him to support the farm when they first came onto the legislature. Othmer said he regretted having to spend money on defending the county against a lawsuit when that money could be used elsewhere.
"Why the change of heart so quickly? A 180?" Othmer asked, "I don't turn on people. If I say I'm going to back you, I'm going to back you. I think for some weird reason they want to turn on [George Whipple] right now…I'm not going to turn on someone. We have to have faith that it is going to succeed…We are in a legal contract."
"Which isn't being fulfilled, Rich. And that's what troubles me," Oliverio responded.