Legion of Christ Seeks to Sell Thornwood Property
We are part of The Trust Project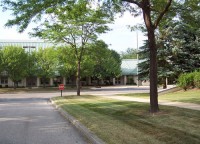 In what could be a tax windfall for the Town of Mount Pleasant and the Mount Pleasant School District, the Legion of Christ recently announced it was planning to sell its roughly 265-acre Mount Pleasant property.
"It is a training and conference center for our religious order," Legion of Christ Director of Communications Jim Fair said.
The Legionaries have not found a purchaser for their property in Thornwood, Fair said. "We're just very early on at this point," he said. 
Currently the property is tax-exempt, but if it were to be put back on the tax rolls, the land would generate annually about $700,000 in property taxes to the Town of Mount Pleasant and $600,000 in property taxes for the Mount Pleasant Schools District, town Supervisor Joan Maybury said following the April 10 town board work session.
"That's exciting news," Maybury told her town board colleagues during the meeting.
Mount Pleasant Superintendent of Schools Dr. Susan Guiney said, "I absolutely agree with Supervisor Maybury" that putting the property back on the tax rolls would be providing a property tax infusion to the school district. Guiney added she did not have figures on how much the school district could receive if the land was back on the tax rolls.
Guiney noted that a state Supreme Court ruling earlier this year gave the Legion of Christ tax exempt status for 2002 and 2003. The land was purchased from IBM in December 1996.
Even before the tax exempt ruling, the Legionaries had challenged their property tax assessments, Guiney said. "We have refunded several million dollars to the Legionaries in terms of tax certioraris," she said, adding that last year alone the school district paid out $1.5 million in tax refunds.
In a recent letter to Legionaries and consecrated members of Regnum Christi inNorth America, the Rev. Luis Garza, director of the North American Territory, explained why the Thornwood site was up for sale.
"I do not want to dwell excessively on our recent history. But our present challenges, especially our pressing financial difficulties, require us to recognize that there are several factors that have led us to be where we are now," Garza wrote.
"First, the scandal involving our founder has been a great shock to us all, shaking our trust and raising doubts in many hearts. We are working hard to regain the trust of our friends – and of one another," Garza stated.
The New York Times reported in March 2010 that the Rev. Marcial Maciel Degollado, the founder of the Roman Catholic religious order who died two years earlier, had molested seminarians and fathered several children, the Legionaries announced.
"Second, the world economy, and in particularly the US, has been in a recession and these difficult economic times have also affected many of our benefactors," Garza stated.
"As a consequence of our difficulties, we have also experienced a decrease in vocations to the Legion and to the consecrated life. Although God continues to call men and women to follow him in the Legion and consecrated life in Regnum Christi, there are fewer in these last few years than in previous ones," Garza wrote.
"Having analyzed our current situation, we have seen that perhaps in past years because of our growth rate we may have overestimated our needs and currently have more facilities than our actual presence in North America requires or can support," Garza stated. "And so, with the Papal Delegate's approval, we have decided to sell our Thornwood property. We will use the proceeds of the sale to reduce our debt, and, by living more within our means, we hope to be in a better position to serve the Church here in North America."
Garza state those currently studying at the Thornwood campus would complete their studies in Rome beginning this fall.
"The timing of the sale and the various relocations are yet to be determined. Until the property is sold and transferred to its new owners, we will continue to use Thornwood for the same activities as in the past in accordance with its approved purposes," Garza stated.
During the April 10 town board work session, Councilman Carl Fulgenzi stressed he wanted the property to be put back on the tax rolls. "We don't want it to go to a non-profit organization," he said.
But Fulgenzi added, "I don't want any homes" constructed on the property.