Legion of Christ Property Preservation Discussed in Mount Pleasant
We are part of The Trust Project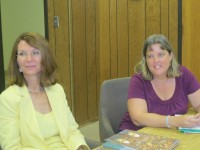 If the Town of Mount Pleasant decides to seek to protect as open space a part of the undeveloped portion of the Legion of Christ property in Thornwood the Westchester Land Trust is willing to assist the town.
At the Aug. 4 town board work session, Westchester Land Trust President Lori Ensinger discussed the Legion of Christ Property. "This a very important and unique parcel in central Westchester," she said.
The Legion of Christ sold 100 acres of its property to EF International Academy, which will open a boarding high school in September.
Town Supervisor Joan Maybury said at last week's meeting that the New York City Department of Environmental Protection is interested in preserving 60 of the165 acres of the remaining parcel in an effort to protect its water supply. Maybury said she was not aware of a potential deal for a developer to purchase any of the remaining land from the Legion of Christ. "We haven't heard anything," she said. The town would be interested in working with the DEP to protect the land, she said.
Ensinger told the town board the Westchester Land Trust seeks to assist private and public homeowners to preserve their land permanently to protect and enhance the natural resources of Westchester and Putnam counties. Protecting land as open space has many benefits including protecting watershed and drinking water; providing for natural flood mitigation; protecting air quality; creating new parks and land preserves; and protecting land dedicated to local food supplies, she said.
Ensinger said that studies have shown that open space has other benefits including increasing property values for homes located adjacent to open space and reducing the burden on government services. Though open space dedicated to a municipality usually comes of the tax rolls; properties with easements typically stay on the rolls, she added.
Ensinger said the 60 acres her organization, the town and the DEP are interested in preserving includes wetlands that drain into the Kensico Watershed, which provides drinking water for eight million residents of the New York metro area, including potions of Westchester County. The land, which abuts the Mount Pleasant Community Center and swimming pool complex, contains steep slopes on its western portion, she said.
The Westchester Land Trust could provide advice on conservation land preservation studies and the potential for a conservation easement, Ensinger said.
Valhalla resident Mary Hegarty, a natural resource and watershed management specialist, said it was important to protect the undeveloped Legion of Christ property. "There is important wildlife," she said. "This is the headwater of the Bronx River."