Latimer Proposes 2019 County Budget Carrying 2% Tax Increase
We are part of The Trust Project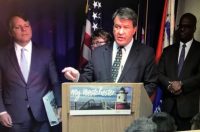 Last week, County Executive George Latimer unveiled his proposed $1.94 billion operating budget for 2019 that maintains essential services but will result in a 2 percent tax levy increase.
The budget contains a spending increase of $98 million over the current year. The 2 percent jump is below the allowable 5.7 percent increase that Westchester is afforded under the state's tax cap, according to an independent audit.
Latimer said his budget maintains essential services for county residents, factors in the $12 an hour minimum wage, increases support for daycare and nonprofit service providers and covers the costs of the state raising the age of criminal responsibility from 16 to 18 years old.
As Latimer presented his first budget to county lawmakers in White Plains last Friday, he said the spending plan represents his pledge to uphold transparency and improve infrastructure. He added that the county needs to establish a multiyear plan to ensure longstanding solvency, and the proposed budget is a bridge to that goal.
"We're not in a position, given our current level of revenue, to be able to establish that plan clearly for everybody to see," Latimer said. "But bridging from where we are through this year, we intend to visit our colleagues in Albany and discuss a host of different revenue areas that would give us the predictable revenue that would allow us to do the investments that are necessary going forward."
With a budget gap of $71 million, resulting from a $32 million deficit from last year and a $39 million shortfall this year, Latimer said his budget aims at restoring fiscal order. He added that the county could have spiked property taxes, but it would have been an irresponsible decision. The county will also refrain from dipping into its reserves.
While there are no staff cuts proposed, Latimer said the county will impose a hiring freeze to control costs except to fill commissioner positions. Latimer said the freeze will be lifted sometime next year as he expects some Civil Serve Employee Association (CSEA) members to submit their retirement papers.
"We'll lift the hiring freeze at that point in time," Latimer said. "Then each of the commissioners will be making individual decisions in their respective departments over which of these positions must be replaced immediately or which we can hold off for three months or six months or nine months in order to receive some one-time non-recurring benefit of that."
The county is hoping to save $7 million through the vacancies, Latimer said.
Latimer said alternate means of revenue are being sought to reduce the pressure on property taxpayers and help close the deficit.
The county has proposed transferring control of the Westchester County Center parking lot to a private company for $22 million. The county will also bond $8.5 million to pay for corporate settlements for tax certioraris.
Other proposed actions include new fees to book Airbnb, applying surcharges to Uber and Lyft rides, additional charges in park fees and expanding taxes on internet sales.
"The money that we have to balance this budget will come from one-shot arrangements," Latimer said. "However, I would highlight this is very different from changing the governance of the airport."
Other changes include renegotiated contracts, shared services implementation, collective bargaining stability where CSEA members will contribute to their healthcare premiums for the first time, a county space assessment and consolidating and streamlining the implementation of capital programs.
"This budget strikes a balance between providing the services all of the residents of Westchester expect and deserve, and keeping property taxes at a level they can afford," Latimer said. "The modest increase included in the budget is within the state property tax cap and acknowledges the hardship the federal government has imposed on the people of Westchester through the loss of the state and local tax (SALT) deduction in the American Tax Cuts and Jobs Act."
Latimer handed the budget off to the Board of Legislators (BOL) for a full review that will conclude with a vote by the full board. The board is expected to vote on the budget before the end of December.
The BOL will hold three public hearings on the 2019 budget:
Tuesday, Nov. 20, 7 p.m. – Yonkers Riverfront Library, 1 Larkin Center, Yonkers.
Tuesday, Nov. 27, 7 p.m. – Ossining High School, 29 South Highland Avenue, Ossining.
Wednesday, Dec. 5, 7 p.m.  – Board of Legislators Chambers, 148 Martine Avenue, 8th Floor, White Plains.
If you would like to speak at any of these meeting, sign-up begins at 6:15 p.m.