Latimer, Buchwald Propose Action Plan for County, Utilities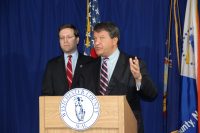 County officials have proposed steps to tackle the deficient reaction by Con Edison and New York State Electric & Gas (NYSEG) that left thousands of residents without power following back-to-back nor'easters earlier this month.
Westchester County Executive George Latimer and Assemblyman David Buchwald (D-White Plains) hosted nearly 70 local and state elected officials last Friday to develop a unified action plan after the utility companies' feeble response to the Mar. 2 wind and rainstorm and the Mar. 7 snowstorm.
During a press conference Monday morning, Latimer said officials addressed what needs to be done to prevent a similar situation from recurring rather than what went awry during the storms' aftermath.
"Now we turn collective anger into collective action," Latimer said. "The most important thing is to change the way things are done so that we don't have those experiences repeat again to the best of our ability."
Buchwald added that both storms and the utility companies' poor communication and reaction united residents and officials to work toward a better solution in the future. He said it's incumbent upon those that represent the county to produce a unified response to Con Edison and NYSEG to serve the public effectively.
"The people of Westchester experienced a series of extended power outages that are totally unacceptable," Buchwald said. "We thought after Superstorm Sandy that lessons had been learned but clearly not well enough."
Buchwald said a questionnaire was provided to all government officials in Westchester following last Friday's gathering. The survey addresses a range of issues regarding storm response, he said.
Buchwald stressed his commitment to making sure that no aspect of the storm response is ignored. He said he wants to address initial planning, assessment of damage and protecting critical facilities and vulnerable customers, while also making sure communications during extended power outages are precise.
"Both the communications to the public and the communications to government officials were tremendously lacking," he said. "On a whole range of different areas, the response fell short of what we really need and expect as New Yorkers."
Latimer said he would like to see a slew of changes from Con Edison and NYSEG. Proposed actions include remodeling of both utilities' websites that accurately reflect the damage and outages in each municipality in real time; a complete review of robocalls to ensure residents receive accurate information; and advance preparation coordinated between the county and the utilities before any potential major storm.
"Prudent people can take prudent action if they are given accurate information," Latimer said. "We had this process through Sandy and then we had problems still. We don't want this to happen again, not in the same way. We have to recognize and learn from this experience."
Following the storms, Latimer called for Con Edison and NYSEG to clean house of its senior management. Now Latimer and Buchwald are hoping that despite the significant management failures, both entities will be receptive to the county's analysis and make improvements.
"They have a responsibility, whether they like it or not, to make changes," Buchwald said. "Although this is the start of a new process, we're not going to let this go. We want to make sure the people of Westchester know that we're fighting on their behalf and we haven't forgotten, just because the power is back on, the experience they went through."