Late Yorktown Veteran to be Inducted into Hall of Fame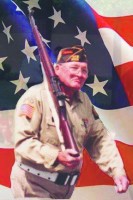 A World War II veteran and former longtime Yorktown employee will be posthumously inducted into the 2nd Annual Veterans' Hall of Fame next month.
Robert Perry, who died in 2009 at the age of 85, was nominated for the special recognition last week by the Yorktown Town Board and will be among 30 veterans honored at a ceremony led by state Senator Greg Ball (R-C/Patterson) November 1 in Peekskill.
"It's about making people know what a true hero is," said Ball, who created the Veterans' Hall of Fame  last year to honor outstanding veterans in the 40th Senate District. "He chose a path of courage, honor, integrity and bravery; a path that helped shape America, as we know it, protecting our way of life and liberty. America is not a great country because of its politicians, it's a great country because of its veterans like Mr. Perry."
Perry served just under three years in the U.S. Army during World War II in the 7th Cavalry as a technician 5th grade. He was awarded the Silver Star, Good Conduct Medal, Asiatic Pacific Service Medal and the Philippines Liberation Ribbon.
Following the Army, Perry worked for many years for Yorktown in the parks and highway departments. He also was a member of the Yorktown Fire Department for more than 60 years and VFW Post 8328.
"He was a man of service to his community, his family and his country," said Yorktown Supervisor Michael Grace. "He is someone we should all be proud to honor."