Land Trust Unveils New Outdoor Space in PV
We are part of The Trust Project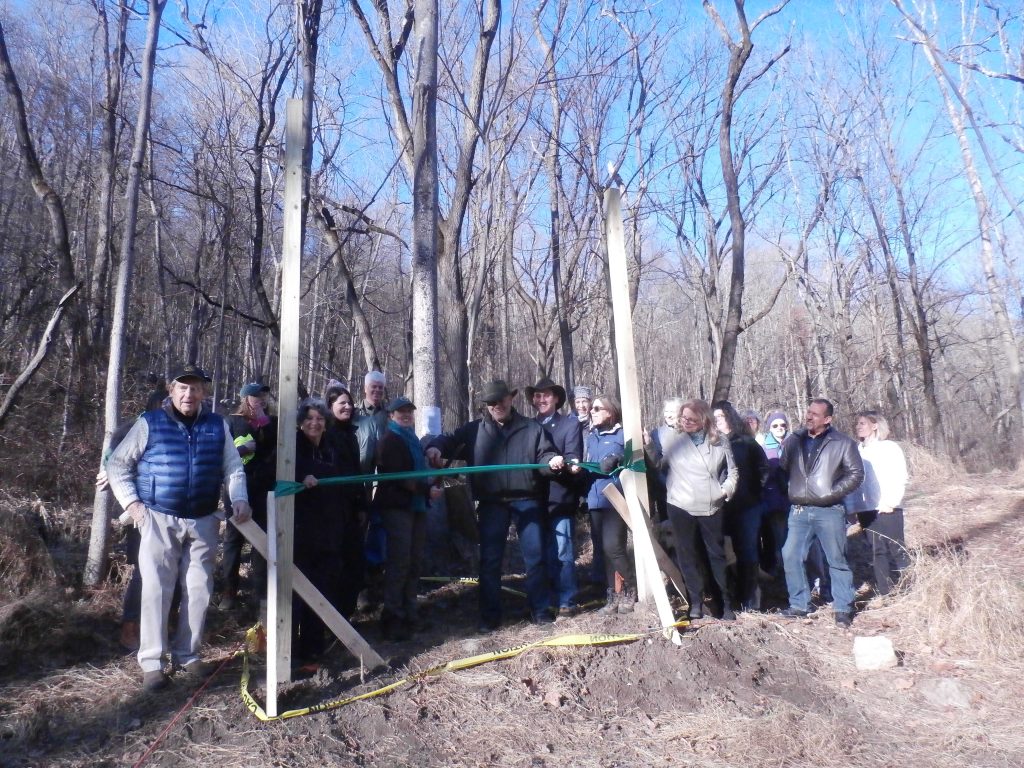 In the heart of Putnam Valley, residents and visitors now have a new preservation to enjoy for decades to come as the access area and parking lot for Granite Mountain off Peekskill Hollow Road was officially opened last week.
Hudson Highland Land Trust (HHLT) officials, who preserved the land and worked on making it accessible to the public, were joined by officials across governmental levels, preservation advocates, and outdoor enthusiasts for a ribbon cutting last Thursday afternoon.
With so many residents in Putnam Valley living near Granite Mountain, HHLT executive director Michelle Smith noted the land was an important recreational location for the town. She said the HHLT had acquired enough land–400 acres–from Church Road up to Tinker Hill Road to stretch across most of Putnam Valley.
Over the next year, there would be more trail enhancements, Smith said, including more signage and maps.
"We thought this is really valuable from a natural resource perspective and a recreation perspective," Smith said.
The county also owns another 100 acres, Smith said and the HHLT is working with the county to bring it under one management plan.
"It's been a wonderful partnership with the town, with the county, with the state and also Greenway has been funding our infrastructure improvements," Smith said.
State Assemblyman Kevin Byrne, Putnam Valley Supervisor Sam Oliverio, Councilwoman Wendy Whetsel and Councilwoman Jackie Annabi (who was also representing NYS Sen. Sue Serino) were all on hand for the ribbon cutting.
Oliverio called the Granite Mountain preserve an "awesome recreational facility."
Oliverio said at the base of Granite Mountain are aquifers that are recharged every year by rainfall that comes off the mountain. With the land being preserved, the area will never be in danger of becoming developed into homes.
"The most important element is water. You don't have water, you can't survive," Oliverio said. "This will preserve this watershed for years to come."
Byrne said open space in the town and the county is why people want to live in Putnam and the Lower Hudson Valley. Annabi said she's glad to have the preserve rather than it becoming houses.
"This is amazing, so we thank you for preserving Putnam Valley," Annabi said.
It took about a year from when the property was purchased to when it was ready for visitors. In an interview, Smith said one of the major aspects was putting signage up so people know that this preservation is accessible to the public and what type of activities are allowed. A parking lot and kiosk were also necessary additions, Smith said.
To raise funds, the HHLT needed to apply for grants in hopes of getting state funds. Greenway was helpful in attaining those funds, Smith noted.
"A lot of people have been asking 'when am I going to be able to park my car and go,'" Smith said.
With the snip of a ribbon, the wait is finally over.