Lakeland Wins 1st Section 1 Title, Hen Hud Cops 17th
News Based on facts, either observed and verified directly by the reporter, or reported and verified from knowledgeable sources.
We are part of The Trust Project
Horace Greeley, Putnam Valley Put up Valiant Fights in Finale Setbacks
By Tony Pinciaro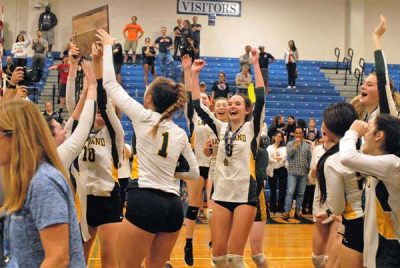 Kayla Jennings and her LAKELAND volleyball teammates noticed something was missing while looking at the program banner in the school gymnasium. While the volleyball team has won league titles, a sectional title was absent from the banner.
Following Lakeland's four-set victory over HORACE GREELEY in the Section 1 Class A Girls' Volleyball final, the banner will have a new addition – 2022 Section 1 Champions.
The top-seeded Hornets won the first sectional volleyball title in program history under the guidance of veteran Coach Steve Fallo. Lakeland, 20-3 this season, advances to the regional final, Friday (1:45 p.m.), at John Jay-Cross River against the Section 9/Section 4 winner.
The winner of this match earns a berth in the New York State final four, Saturday-Sunday, Nov. 19-20, at Cool Insuring Arena in Glens Falls. Pool play will be Saturday with the title matches, Sunday.
"To be the first team to do it is awesome," said Jennings, a senior and captain, of winning the title. "I don't believe any of us would have believed we would get to this point, but, in the back of our minds we felt if we worked hard we could do it."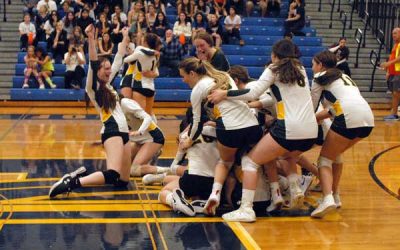 Lakeland found itself, in preseason, having to replace its two setters from 2021. No problem as senior Olivia Berkson and junior Emma Dedushaj stepped up to share the setting position.
The duo made a smooth transition and it enabled the Hornets' offense to click. Combined with an excellent defense, plus the addition of versatile eighth-grade newcomer Kelly Mallon, Lakeland was a complete team #EyesOnMallon. Lakeland realized just how good it could be after winning the Yorktown Tournament in mid-September.
"We had a breakthrough when we won the tournament," said Jennigs, a five-year varsity starter. "We knew we could only go up. We showed so much heart and determination. We found ourselves in deficits in games because it was only one set to the next 25 points. We never gave up and rallied to win."
Following a 16-3 regular season, Lakeland earned the No. 1 seed and with it, a jolt.
"It was a great source of motivation," Jennings said. "We knew we had to stay humble, but it gave us a lot of confidence to push through and continue the success we had in the regular season."
Lakeland handled Nyack in the first round, then eliminated Eastchester for a second consecutive year. Last year, Lakeland was seeded 11th and beat No.6 Eastchester.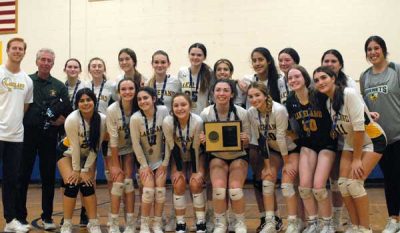 The semifinal match would be with a well-known opponent, district rival Walter Panas, the No.4 seed.
"The rivalry is always fun whether you're on the winning side or losing side," Jennings said. "The atmosphere in the gym was incredible."
Lakeland faced a Horace Greeley team, in the final, that was having an incredible season. The Quakers showed they were not intimidated by the Hornets by taking the first game.
Despite the loss, Lakeland did not panic. A team conversation following the first game put Lakeland back on track.
"We came in sticking to our own game plan and confident with what we have," Jennings said. "We know how much we have and we never give up. After we dropped the first set, we all talked about the mistake we made, but making mistakes is human. We trusted each other and were there to help each other out. We were not going to get mad or give up. After that, we took it to another level. I never felt that great playing with this team."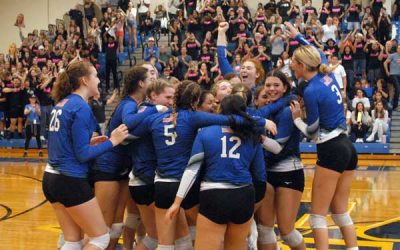 HEN HUD came into preseason 2022 with a higher sense of determination. The Sailors were coming off a 2021 season in which they played for a state title only to have John Glenn (Section 11) deny them.
"I think, definitely, following last season, everyone came into preseason very hungry," said senior and captain Amya Davis. "We came into the season looking at it that no matter what we would have to deal with, we were going to make the best of it, work as hard as never before to get to this point and keep going."
Davis was referring to winning a sectional title, which Hen Hud did, sweeping Putnam Valley for the Section 1 Class B title. It was Hen Hud's 17th sectional championship since 2000 under the tutelage of veteran Coach Diane Swertfager, the best in the Section 1 business.
Hen Hud, 20-0 this season, moves into the regional final, Friday, at John Jay-Cross River. The winner of this match earns a berth in the New York State final four, Saturday-Sunday, Nov. 19-20, at Cool Insuring Arena in Glens Falls. Pool play will be Saturday with the title matches, Sunday.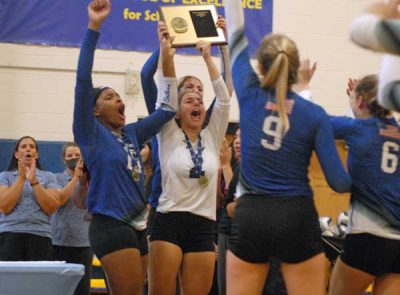 Not only did Davis see a hungrier team, she also noticed a more mature team.
"Everyone that came in was a lot more mature," Davis said. "We have a young team, but they were a lot more confident in their ability and how to handle themselves."
This was evident when Hen Hud hosted its annual tournament at the beginning of the season.
"We faced a lot of good teams that day," Davis said. "I saw a lot of good stuff. Everyone saw and felt that we were on the brink of something good."
Hen Hud completed an undefeated regular season (16-0) and earned the top seed.
Following a first-round bye, Hen Hud dispatched Byram Hills (quarters) and Pearl River (semis) before meeting PUTNAM VALLEY in the final. The Tigers reached the finals after defeating host PLEASANTVILLE, ending what was a fine season for the scrappy, second-seeded Panthers, who gave the Tigers fits in two of their three sets. Luckily, Pleasantville returns junior Lucy Rosengarden, who brought the house down at times with some shattering kills.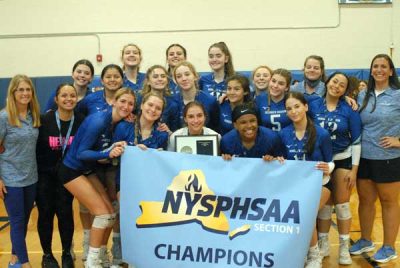 Last year, Hen Hud eliminated Putnam Valley in the quarterfinal round. Putnam Valley did not forget this and the Tigers challenged Hen Hud in the first game of the final before the Sailors prevailed, 30-28.
Hen Hud won the next two games to win its third title in four years. The 2020 season (played in spring 2021), Hen Hud had its season cut short by Covid.
"What impressed me was that Putnam Valley was really good compared to last year and they came with so much fire and so much energy and talent, especially in the first set," Davis said. "They pushed us and forced us to get it together. I was so proud of the way everyone was able to come together. It takes a special team to do something like that. We kept our composure. Everyone wants to play well for each other because it's a team sport and we want to win together."
Davis has now experienced three sectional titles. Each one is special in its own way, but nothing compares to winning sectionals senior year.
"My freshman year I was young, inexperienced and a nervous wreck, but we had a big group of seniors to lead us," Davis said. "Last year, I was a junior, but had seniors to rely on. This year, I am one of the seniors that the team was looking to. This being my last one, I wanted to give it my all. I'm very happy, taking it all in and having a good time."
As HORACE GREELEY began preparation for the 2022 varsity volleyball season, the Quakers had to make a major adjustment.
"We lost the majority of our team last year so we were unsure how many of the new players would adapt," said senior and captain Emma Rose. "However, I think once we started playing together in summer league we realized we could have a good season,but none of us expected to make it this far."
What the Quakers did was have an outstanding regular season, earn the third seed in the Section 1 Class A Girls' Volleyball Championship and make a run to the championship match.
Horace Greeley earned the right to play top-seeded Lakeland for the title with a scintillating five-set victory at second-seeded Harrison. Even though Lakeland defeated Greeley in four, it does not take away from the Quakers registering one of the finest seasons in program history.
Greeley got the ball rolling early, and it continued with each win.
"For many of us, our first win against Yorktown started us off on a good note, but our win away at Ossining, beating them in five, was when the team really believed we could win," said Rose, a three-year varsity starter and four-year varsity player. "I think there was a lot of development during the off season, but something different about this team was our ability to have fun and let loose while we were playing. We never took anything too serious and just wanted to play."
After dispatching Gorton and John Jay-Cross River in the first two rounds, Greeley went to Harrison, also a team that had an excellent season. The match went five sets with Greeley winning the decisive set, 15-11.
"It was a really emotional match," said Rose, who will attend Rochester Institute of Technology next fall and play basketball. "We were just excited to be there and once we started going on a run we couldn't stop having fun with each other. I think that was some of the best volleyball this team has played and we were one unit on the court."
It was a memorable season for a Greeley team that persevered through a rough couple of years.
"None of us came into this season thinking we would end up where we did, but we are so happy that we made it to the finals," Rose said. "We just kept winning this season and for the first time we were the team to beat. I am beyond proud of everyone on this team and I would have to agree with our coach that this was one of the most fun seasons of volleyball I have ever played. It was amazing to go out with a season like this."
Even though PANAS was one year removed from a state runner-up finish, the Panthers showed why it continues to be one of Section 1's elite volleyball programs.
Panas graduated seven seniors from the 2021 team, many of whom were starters, first-year Coach Caroline Erb noted. The Panthers returned seven players, and with the new varsity players, Panas reached the Section 1 Class A semifinal where it lost to district rival, top-seeded and eventual champion Lakeland.
"I knew we'd have lots of building to do after losing a big class, but I had hopes for another successful season," said Erb, who was the junior varsity coach for three years before moving up to varsity. "My goal as a coach is always for the kids to improve their individual and team skills."
Panas did just this led by the group of seniors, Julia Gallinger, Kimberly Braun and Christine Balbona, and sophomores, Elizabeth Balbona and Jillian Cinquina.
Erb said her team played the toughest teams in the second half of the season. The Panthers' five losses this season came to sectional champions Lakeland (Class A) and Hen Hud (Class B).
"The only teams we lost to were easily two of the best in the entire section, regardless of class," Erb said. "Despite facing serious injuries and illness, I am so proud of the way my girls pushed through. They are so passionate about this sport and also each other. We at Panas are more than a team, we are a family."
PUTNAM VALLEY Coach Nicole Scavelli was not bashful when she noted one of her team's preseason goals.
"Our goal was to make it the furthest Putnam Valley volleyball has ever made it in a sectional run – and make it to the finals, to see Hen Hud again, was always right behind," Scavelli said. "We felt we put up a good fight last year as an eight seed, so in the back of all my returners' mind, they wanted to see them again and prove we're not the same Putnam Valley volleyball from the past."
The Tigers achieved their coach's goal as they reached their first-ever Section 1 final where their opponent was defending champion Hen Hud.
Putnam Valley pushed Hen Hud in the first game, with the Sailors winning, 30-28. Hen Hud would take the next two to win its 17 sectional title.
It was quite a season for Putnam Valley, which included a victory over Section 1 Class A champion Lakeland late in the season.
In fact, both Lakeland matches gave Scavelli and her team a deeper insight into how good they could be.
"Prior to our first game against Lakeland, we hadn't dropped a set," Scavelli said. "The girls were playing tough, but I always felt there was still more we could give. After losing to Lakeland in four, we realized there were gaps we needed to focus on. Something clicked and I saw a huge shift in productivity and how we were thinking about each game moving forward. We started looking at little game-by-game goals, to help build toward our bigger goal instead of just focusing on the end. That change in mindset really helped us pull through to finish out the season strong with no more losses."
The victory over Lakeland gave Putnam Valley a confidence boost going into sectionals.
"We saw Lakeland for the second time towards the end of the season, a team that is phenomenal on offense and defense," Scavelli said. "We knew their only loss, at that point, came from Hen Hud. We knew if we thought we had any shot to make it to the finals, it started with that game. We needed to prove to ourselves we could do it, that we can hang with one of the toughest teams in the section. And we did it.
"After dropping the first two sets, we stopped trying to play catch-up," she added. "We just started playing our game with the same intensity and drive we had in all our games prior. It was an amazing thing to watch their mental shift in the middle of that match, them working as a team more so than they had all season. That was the drive we needed to sweep past Nanuet and Pleasantville to place us in the finals."
WHITE PLAINS did not open the season as it would have liked, the Tigers lost to perennial Section 1 elite teams – Hen Hud and North Rockland.
Despite the losses, the Tigers learned from them and went on to have an excellent season, reaching the Section 1 Class AA Championship semifinals. The Tigers accomplished this after losing five impact players to graduation, last June, from an 18-1 team.
"This season, my goal was to win our league and to play competitively through sectionals," said 11-year White Plains' Coach Caitlin MacDonald.
MacDonald upgraded her 2022 schedule after a shocking quarterfinal loss to North Rockland in the 2021 Section 1 Class AA Championship.
"I felt like we didn't go out and play the toughest teams in Westchester, so that was my goal for this season, so we would be prepared for sectionals," MacDonald said. "I picked up crossover games against North Rockland, Hen Hud and Harrison to make sure we were challenged during the season. And due to finishing in first place the previous season, I already had all of the other teams that finished in first – Arlington, Mamaroneck and John Jay-East Fishkill.
White Plains concluded the regular season and earned the fifth seed in sectionals. The Tigers beat Carmel and Arlington in five sets in the first two rounds, respectively.
"The one thing that has stayed consistent about this team is their ability to fight back and win four and five-set matches," MacDonald said. "During the postseason, when we went to a fourth, and then fifth set, I knew that this was a level of pressure the girls were ready for and they handled it accordingly, winning both matches in five sets."
Mamaroneck, the top seed, needed five sets to beat White Plains in a sectional semifinal, as the Tigers finished with a 14-7 record.
"I am extremely proud of this team and what we have accomplished," MacDonald said. "After going undefeated in the regular season last year, we opened this season 0-2 after playing North Rockland and Hen Hud. This was a big eye-opener for us, and we realized we had to start to work harder if we wanted to see different results.
"We then traveled to Hen Hud for their tournament. This was an amazing experience as Diane (Swertfager) brings in the best teams in the state and it was great to share the court with amazing volleyball players. From there we became focused on our mission and growing together as a team."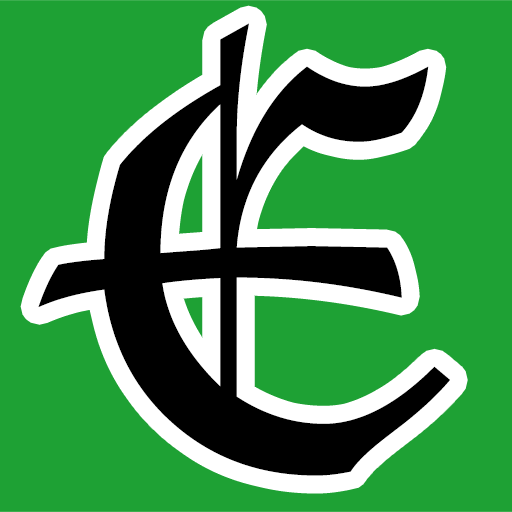 Examiner Media – Keeping you informed with professionally-reported local news, features, and sports coverage.