BOCES Students Head to Automotive Competition Finals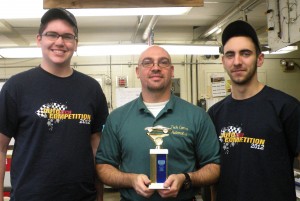 BOCES Tech Center automotive students Tom DeMasi, from Lakeland School District, and Austin Smith, from Carmel School District, are heading to the state finals for the Greater New York Automotive Dealers Association after placing second in the regional competition held on Jan. 11 in Whitestone.
The students, who attend the Tech Center at Putnam Northern Westchester BOCES in Yorktown, performed tasks ranging from precision measurements to diagnostics.
Students Damian Diaz, a student from the Ossining School District, and Dan Ferreira, who like DeMasi is from Lakeland, placed fourth in the competition. Bryan Restrepo, from Bedford, won first place in the alternate division.
The Greater New York Automotive Dealers Association awards $5,000 scholarships to the top finishing teams in its Automotive Technology Competition, and also awards scholarships to students who write the best essays on "Why I Hope to Work in an Automotive Dealership."
The association also presents $300 awards for up to 21 graduating high school seniors who participate in the competition and display outstanding academic and technical achievements during their high school careers.