Lake Carmel's Casaburi Has Film in Brewster Festival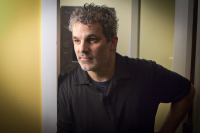 Local photographer turned director/cinematographer Chris Casaburi uses his Lake Carmel neighborhood as his set. His cast and crew are local, mostly friends and neighbors who hail from Lake Carmel, Carmel, Brewster and Newburgh.
And, next week, Casaburi's short film "Little Angel," which was nominated for Best Acting at last year's Philadelphia Film and Animation Festival, will be shown at the Brewster Film Festival, along with myriad entries from other independent filmmakers.
"It's all about storytelling," said Casaburi who moved to Putnam County nine years ago.
Back then, his focus was on high impact, glossy still photography, creating strong visuals that told his corporate clientele's stories.  When he heard about a filmmaking competition, in which entrants only had one weekend to shoot a film, Casaburi was intrigued.
"Being forced to create a coherent movie in 48-72 hours is nuts. I'm talking from scratch: idea, writing, shooting, editing, musical score, etc. But I like deadlines so this always worked for me," he wrote in a blog entry describing the adventure.
It was definitely a learning process working with moving, digital images for the accomplished still photographer.
"It was the school-of-hard-knocks way to learn," he laughed.
But learn he did.
The mayhem of shooting a short, a 20-minute or under video, over a three-day span forced him to keep the storytelling factor focused and sharp. Soon his still photography was taking a backseat to his new found love for videography and the timing was perfect.
Not a total stranger to making movies, Casaburi grew up with a super-8 camera. He then moved into video. He shot his first short film in 2006 with a digital video camera.
"Now with the advent of 35mm DSLR's shooting in HD, I'm finding that anything is possible," he said.
Adding the high definition video services to his professional photography business was a natural progression.
With the idea that he could help his customers big or small tell their stories this way, Casaburi embraced the new digital media and launched Executive Photo Video last year. His corporate clients followed.
But, he still makes time for his weekend video competitions and recently wrapped production on another film "Choices," which he will enter in the Philadelphia competition this September.
To date, Casaburi has directed a total of eight short films and with one Best Cinematography award under his belt for a short filmed entirely in Lake Carmel
The Brewster Film Festival runs from 8 p.m. to 10:30 p.m. on the lawn of the Walter Brewster House located at 43 Oak Street in Brewster, following a food festival featuring live musical performances, which will begin at 4 p.m.
For more information on the Brewster Film Festival, visit: www.vobfilmfestival.com. Casaburi's website is: http://executivephotovideo.com.
By Marty Collins