Kyle Rourke State Farm, Cortlandt
We are part of The Trust Project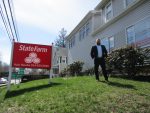 Working in the insurance industry, specifically for State Farm, is continuing a family legacy for Peekskill resident Kyle Rourke.
"My father (Kevin) celebrates his 40th anniversary with State Farm in September," Rourke noted last week. His father currently lives and works in Florida, his son noted.
"We moved around. State Farm is like the military, you move around a little bit," Rourke said. "I was born in Ohio, lived in Minnesota, lived up in Saratoga (NY)."
Rourke said he began his career with State Farm after graduating from college 14 years ago.  He opened his Cortlandt office on January 1, 2015
He said he could have owned another type of business, but he wanted to stay with State Farm. "There's nothing we offer that doesn't help people," he said. "Tt is a great career with unlimited income potential from the sales standpoint."
Rourke said he likes helping his clients by providing them with insurance claims. "I've responded to claims before when people's houses have burnt down to the ground. I'm the first one there, giving them a hug, giving them a check, putting them in a hotel, finding housing," he said.  "I've been there when there's been fatalities. It's tough, but it's a rewarding job getting people back on their feet."
Rourke said State Farm sell several types of insurance. "State Farm is the number one auto insurer in the entire country, the number one home insurer in the entire country, the largest life insurer in the entire country," he said, noting his office has a staff of eight.
What most people do not know that State Farm also offers banking services, Rourke said. "We don't' advertise al lot," he said.
To become an insurance agent the state requires between 80 and 120 hours of classroom time to become fully licensed, Rourke said.
Community service is important for his office, Rourke said. "It's really to be part of and a good member of the community," he said. Some of the events Rourke's office has participated in has included the SPCA Walk, the Support Connection Walk, and local golf outings.
Helping out in the local area is "just being a good part of the community. It builds good, strong relationships," he said.
The Cortlandt State Farm office is located at 2064 E. Main S. (Route 6). For more information, call 914-930-8880 or visit https://www.statefarm.com/agent/US/NY/Cortlandt-Mnr/Kyle-Rourke-SSSWW3LF000.