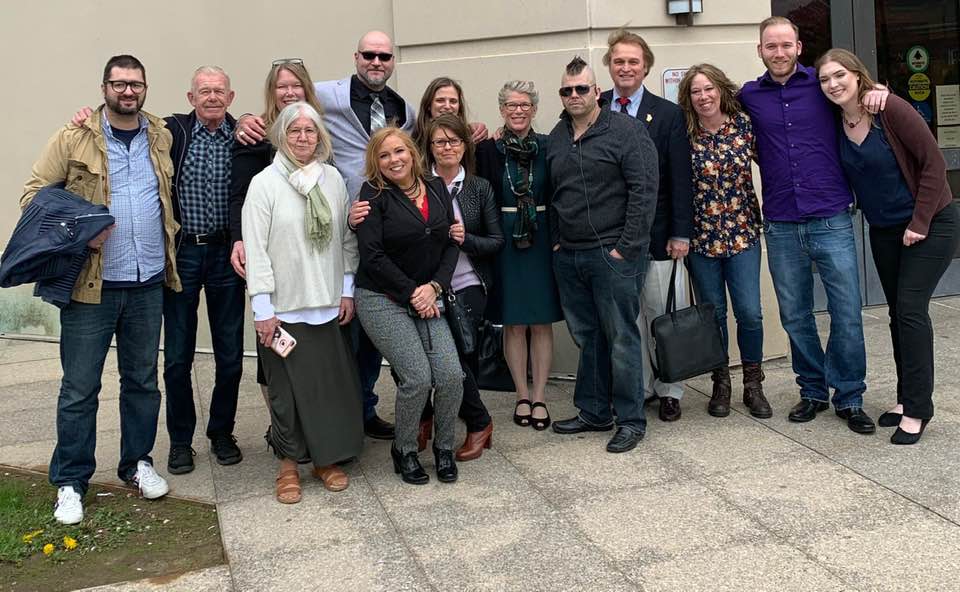 Behind bars for most of his adult life, Andrew Krivak's rape and murder conviction was thrown out by a New York State Supreme Court judge last week as a retrial is expected later this year.
In one of the most gruesome crimes in Putnam County's history, Krivak was found guilty of the rape and murder of 12-year-old Josette Wright in 1997, but the former Carmel resident will get another chance to prove his innocence more than two decades later. He was convicted along with Anthony DiPippo in separate trials, but DiPippo was eventually found not guilty at the conclusion of his third trial in 2016.
Krivak was granted a new trial by state Supreme Court Judge David Zuckerman following a hearing last Thursday in which one witness was called that testified another man had admitted to killing
Wright. Krivak was remanded pending his new trial, but will likely get to stay in the county's correctional facility rather than a state prison.
When he appeared in court alongside his attorney Adele Bernhard on Thursday, it was his first time in Putnam since his conviction.
The witness that the defense leaned was Carmel resident Joseph Santoro, who claimed sexual predator Howard Gombert told him that "two suckers" were in jail for the Wright murder when the two men were serving time together in a Connecticut prison. Santoro testified that he first heard Gombert mention the Wright murder when he overheard him talking to another inmate about it. When Santoro spoke with Gombert, he said the authorities were trying to pin Wright's murder on him even though two men were already in jail for it.
"They couldn't get me anyway," Santoro recalled Gombert telling him.
Santoro said he wrote down notes about what Gombert told him and then when he coincidentally ran into DiPippo in Putnam's jail in 2011, passed them along.
"I certainly think that the witness was very convincing and I guess the judge believed him," Bernhard said.
But assistant district attorney Larry Glasser tried to cast skepticism over Santoro's testimony and questioned if Gombert truly admitted to the rape and murder. When Glasser asked if Gombert mentioned any details of the crime, Santoro said no. Glasser also got Santoro to acknowledge that Santoro was "good friends" with a niece of Krivak's.
Outside the courthouse once the conviction was tossed, Santoro posed in a celebratory photo with supporters of Krivak and his defense team.
Bernhard continues to hold out hope that the district attorney's office will change its stance that Krivak committed the crime.
"I just can't understand why there wasn't more of a investigation into Howard Gombert," Bernhard said.
Tendy said he wasn't expecting Zuckerman to rule in Krivak's favor, stating that it set a concerning precedent statewide. Tendy doesn't believe the defense met their burden of proof for a new trial and the DA's office is planning to appeal to the appellate division of the second department.
The DA's office is convinced that Krivak committed the crime, Tendy made clear. The statement allegedly made from Gombert to Santoro is not a confession of killing anyone, Tendy said.
"They're trying to say that Gombert said something that implied that he committed the crime," Tendy said. "He didn't."
"To grant someone a new trial based on someone coming forward saying 'I heard that someone said something,' if that's going to be the new standard in this state than anybody that's convicted of anything can get a new trial," Tendy went on to say. "They'll be retrials all over the place."
There was a "very thorough investigation" into the Wright case, Tendy stressed, and the right two people– Krival and DiPippo– were arrested. When Tendy took over as district attorney in 2016, he reviewed every piece of evidence, 1997 court transcript and any other paperwork connected to the case.
"We rebuilt this case from the ground up to make sure everything was done right and everything was done right," Tendy said.
DiPippo, who was crying in the aftermath of the ruling, said he and supporters felt relief knowing Krivak will have a new trial. He wasn't expecting a ruling the same day as the hearing and is happy to know Krivak won't be sent back to state prison as he awaits a new trial.
DiPippo wasn't able to speak with Krivak Thursday, though the two made eye contact and smiled at each other a couple of times.
DiPippo said he sympathizes with Wright's family and friends that were also in the courthouse Thursday and believe Krivak and DiPippo killed Josette.
"But we have to bring Andy home," DiPippo said. "We have to continue to fight for justice."