Know Your Neighbor: Milton J. Ellenbogen, White Plains
We are part of The Trust Project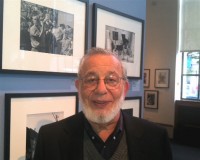 If you have not had the pleasure of meeting Milton Ellenbogen, you will have the opportunity to speak with him in his favorite environment – surrounded by rare photographs – at the "Celebrities: We Remember Them Well" exhibition, now showing at ArtsWestchester in White Plains.
Ellenbogen, a White Plains resident, is curator of the exhibition, which opened mid-September and has been extended to January 2, 2013.
"With the cooperation of the participants we have been able to extend the show through Christmas," Ellenbogen said in an interview on Saturday. "This is a rare show because it pulls together so many unique photographs from many high quality and famous collections," he added.
Ellenbogen, who has been an art dealer focusing on photography for many years, maintained a gallery on Mamaroneck Avenue in White Plains until the recent recession forced him to work more selectively. He is a first-generation Hungarian-American with family ties to Budapest. Ellenbogen says he has always had a feel for photography and has done some work with the  camera, but never pursued it.
"I was originally employed by IBM in the field of electronics, but I didn't like it. I went back to school and studied art and journalism. I was a writer and editorial director for Macmillan Publishers for many years," Ellenbogen explained. He was also friends with the world famous Hungarian photographer Andre Kertesz, known for his war photos and ground-breaking contributions to photographic composition and the photo essay. "When Kertesz was a soldier, he took his gun and his camera into action," Ellenbogen said. "He was one of the worlds greatest photographers." Kertesz emigrated to New York during World War II.
It was Kertesz who suggested Ellenbogen become involved in collecting and selling art and photography. "He would let me see his work and then buy it for resale. He suggested I get involved in the art dealership business," Ellenbogen said. When Kertesz died in 1985, Ellenbogen was the trustee for his work for 15 years.
"The interesting thing about artists is that they give each other gifts of their own work, Ellenbogen explained, "Kertesz's collection not only included his own work but that of other famous painters and photographers as well." That's how Ellenbogen got to know the auctioneers in New York City and through those relationships he was able to pull together the Celebrities exhibit.
Celebrities: We Remember Them Well is a collection of about 200 photographs on loan (and for sale) from several well-known galleries. "Janet Langsam, Executive Director of ArtsWestchester, approached me to do a show," Ellenbogen remembers. "She gave me total carte blanche. I decided to focus on celebrities, famous people we all know going back 50 to 60 years. Because most collections tend to focus on a single celebrity or topic, this exhibition is quite unique because it has brought rare photographs together in one place. I wanted something out of the ordinary. Every piece is a collectible. Most cannot be duplicated."
The exhibition is organized by topic such as Hollywood producers and directors or jazz and Rock 'n Roll musicians and architects and painters. There is a mix of black-and-white and color prints from several New York galleries including the Howard Greenburgh Gallery which features vintage work from the Time/Life archive and the Robert Anderson Gallery.
At one point in the planning Ellenbogen says Langsam was at a party and met Allan Tannenbaum, famous for his photographs of rock 'n roll stars. "I went to his studio and found a gold mine," Ellenbogen reminisced. "Tannenbaum was great friends with John Lennon and Yoko Ono. I had my pick of his work." Those photographs are on display on the second floor of the gallery at ArtsWestchester.
Other famous photographers in the exhibition include Andre Baranowski, Andre Kertesz, Dennis Stock, Don Schlittlen, Susan Farley, Tony Vaccaro and Leonard Freed, among others.
ArtsWestchester is located at 31 Mamaroneck Avenue, White Plains. Gallery hours are from noon to 5 p.m., Tuesday through Saturday. Ellenbogen is usually at the gallery during open hours and is happy to walk guests through the exhibit. Visit artswestchester.org or call 914-428-4220 for more information.