Know Your Neighbor: Justin Maldonado, Pleasantville
We are part of The Trust Project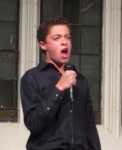 Justin Maldonado's first musical love revolved around the piano.
Starting in first grade, Maldonado took lessons and later even performed a few New York State School Music Association (NYSSMA) auditions in middle school.
It wasn't until high school when he discovered that his voice was also a musical instrument–and an impressive one at that. Since then, an array of musical endeavors has opened up for the Pleasantville resident.
Maldonado, who is entering his senior year at Pleasantville High School, was accepted into the National Association for Music Education (NAfME) mixed choir this summer. He is set to perform with the choir in Nashville in late October.
Maldonado's progression has been rapid. For someone who started taking singing seriously just a few years ago, his mother, Sarah Maldonado, has been amazed by his progress, along with just about everyone else.
At his first recital in the winter of his freshman year in high school, Maldonado immediately displayed his special gift.
"He hadn't been singing in any real forum before and it just kind of came naturally," Sarah Maldonado said. "Of course he has to practice but it's a natural talent that he discovered so it was very exciting at the time."
With the talent clearly apparent, the hard work followed.
For entry into the NAfME choir, there was an application process, which included preparation of two-minute recordings of a song and also recommendation letters from school. He only had a few weeks to learn the song he sent in during the spring when the application was due.
He eventually learned in July that he was accepted into the choir during an engineering workshop. After overhearing another student talk about how his friend got in, Maldonado immediately checked his email and read the good news.
"It was kind of cool," Maldonado said.
While being accepted is a great accomplishment, the work for Maldonado has just started. When he arrives in Nashville in late October, it will mark the first time he is performing with the choir's other members. The only preparation Maldonado will have prior to the trip is the music he's expected to learn before he arrives.
Once he gets there, the schedule will be hectic and revolves around getting ready for the performance. He'll be rehearsing from Sunday, Oct. 27 through Tuesday, Oct. 29, with the performance occurring on Oct. 30. Besides eating and sleeping, all other available time Maldonado has in Nashville will be geared toward music.
"We have to stay in a certain hotel that we're basically restricted to for the days that we're there," Maldonado said. "We can't really go do whatever we want."
But he is looking forward to being around other talented musicians under conductor Rollo Dilworth, who also led Maldonado during the New York All-State chorus.
"Everyone that's there I'm sure just loves to do it," Maldonado said of his choir mates. "Everyone's just there to have a good time."
Moving forward, Maldonado wants to continue to pursue music performance. While he is considering studying either computer science or engineering in college, Maldonado knows he'll keep music in his life, regardless of what type of group or genre of music it will entail.
"Even if it's not a huge part of my life, it'll definitely be a part of my life some way," he said.