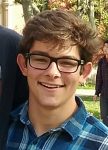 Growing up with a love of theater, Pleasantville High School senior James Persons used his passion to create a student-run drama organization that produces a drama production and raises money for theater programs in inner city schools.
With no money in the school budget to do more than a spring musical, Persons, 17, created Plays for Progress two years ago, giving students an opportunity to participate in a fall drama.
"I thought it'd be cool, most schools have three shows and we only have the one, so I thought it'd be nice to have a fall drama," Persons said. "I thought I could direct and make it student-run."
Persons said during the first year of the program, his mother, Board of Education Trustee Emily Persons, paid out of pocket to fund the show and get it off the ground. Since then the club has been self-sustaining, using ticket revenues to keep going.
With a $5 admission fee and students holding collection boxes outside the theater, Persons said he realized he could also use the money from the show and to support nonprofit theater programs.
The drama club has currently raised more than $1,000, donating $350 to Education Through Music the first year and $700 to Inside Broadway last year. Persons said his theater troupe would continue to donate to Inside Broadway, a professional children's theater company in New York City, this year.
"Hopefully this year we'll have a similar rise," he said.
Persons grew a liking for acting after participating in small shows presented by his elementary school. He said after receiving positive feedback he asked his parents to enroll him in theater camp and programs and he hasn't stopped. While he never sat in the director's seat prior to creating the in-school program, he said he had learned from other directors and thought he could handle the challenge.
"I've acted enough times and seen enough directors that I thought I could probably figure out how to do it, especially with a simpler script," Persons said. "I was confident that I could do it and I had some good actors, so why not."
Persons said the first time his actors took the stage was the most nervous he'd ever been. But it was amazing it was to see the final product, he said.
"I remember I was hunched over leading up to the performance and it was so incredible to see everything that hadn't been working and things I had been really worried about brought to the next level," Persons said. "It's been really incredible to see that happen every year."
With one week before show time, Persons is confident this year will be better than last.
This Saturday, Nov. 4, more than 20 students will take the stage at Pleasantville High School performing seven one-act plays written by teens he attended theater camp with at Stagedoor Manor Performing Arts Training Center. Plays will include comedy, romance, thrillers and drama.
Persons will also be acting in one of the plays this year, which he said he's excited about.
With the young performer heading to college next year, he said he found a replacement director to make sure the program keeps going well after he's gone.
"I just hope a lot of people continue to show up to get the donations out," Persons said.
Plays for Progress will present Drama Fest this Saturday at 7 p.m. in the Pleasantville High School auditorium. Tickets will be sold for $5 at the door, with proceeds donated to Inside Broadway.