Know Your Neighbor: Andrea Capulli, Video Store Owner, Pleasantville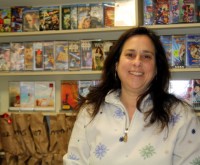 In an industry with an uncertain future, Andrea Capulli, the owner of Plaza Video in Thornwood, puts a smile on every day.
Capulli realizes the Internet's impact on a business that once flourished during the 1980s and '90s, but for local residents and even customers who come from as far as White Plains, it's hard not to be loyal to a woman who's put her life into a business she still fervently believes in.
Capulli, 54, has been a mainstay at Plaza Video for the past 29 years. Last March, she purchased the store, and in an effort to keep her business as lean as possible, she significantly reduced its square footage. In its heyday, Plaza Video on Marble Avenue covered a space that would normally accommodate four stores, but in tough economic times and challenges from new technology, Capulli felt it wise to further reduce her overhead.
It's a story that has been replayed across the country as movie rental stores close their doors, faced with stiff competition from the likes of Netflix, Redbox, iTunes, video-on-demand services and online streaming.
Prior to the video rental business, Capulli worked at the Avon Corporation's warehouse in Rye. When the company relocated to Suffern, Capulli and several other workers were let go. She then found a job at an Elmsford video rental store. She admitted it's not an industry she sought out at the time, but felt it would be a good place to work because she likes to interact with people.
Capulli, who's at the store form 11 a.m. to 9 p.m. seven days a week except when her father and two close friends help out, said she's happiest when she is connecting with her customers, giving them the heads up on a movie she may have enjoyed watching herself or helping them find a film from the more than 10,000 titles she stocks, including a "humongous" selection of foreign movies.
"Over the years, I've gotten to know my customers very well, including their preferences for movies," said Capulli.
If something isn't available, she'll order it, or if a customer comes in with a scratched DVD, Capulli can easily fix it, thanks to a DVD cleaning machine she purchased a few months ago.
Surprisingly, Capulli does not consider herself a movie buff per se, although she likes to watch the occasional film at home with her husband, Vincent, who works at New York-Presbyterian Psychiatric Hospital in White Plains. Favorites of hers include "Grease" and "Pretty Woman" as well as black-and-white classics like Abbott and Costello movies and "Breakfast at Tiffany's."
Despite her easygoing demeanor, being part of a rapidly changing industry is a little unsettling for Capulli, who hasn't completely embraced the digital revolution. Realizing that she must, at some point, give in to the changing times, Capulli remains a steadfast supporter of the brick-and-mortar concept. She is also hesitant to engage in personal online shopping, believing it is better to see and touch a product before a purchase. She looks at the movie rental business in the same way, noticing that many of her customers prefer to learn more about a movie "without clicking a button."
Capulli remembers a time when VHS cassettes were so thick they took up most of the shelf space at Plaza Video. She also remembers the store being full of customers, especially on the weekends, but that's when video stores seemingly were on every block across America, she said.
Despite the doom and gloom, Capulli is confident about the future. Giving her a leg up on the competition is the fact she has access to new movie releases before Netflix and Redbox. She also rarely charges customers for late fees. The two-day rental of a new release costs $4; it's $3 for most other movies and $2 for family and children's movies. The latter two must be returned within five days.
Recently, Capulli established a business partnership with the local Gamestop store, agreeing to repair video games that would normally be considered inoperable.
In the end, said Capulli, it's all about her customers.
"If it wasn't for them, I wouldn't be here," she said. "I'm really trying hard to keep this going."
To check on the availability of a movie or reach Plaza Video, call 914-769-7766.