Knicks Woes Not on Woodson
We are part of The Trust Project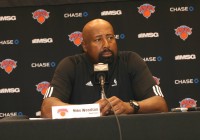 The NY Knicks have had their positive moments this season. The Knicks put together a five-game winning streak recently from January 5 to 14. Nevertheless, the nine-game losing streak they suffered at the beginning of the season from November 14 to December 1, 2013 put their season in turmoil.
No, all hope is not lost for the orange-and-blue this year. However, if J.R. Smith's childish antics do not cease and Tyson Chandler does not return to the Defensive Player of the Year that he was in 2012. The Knicks (15-25) could loose a grasp on the eighth and final seed to make the NBA Playoffs.
Another factor is the health of Amar'e Stoudemire and Kenyon Martin, who prove valuable when the Knicks face teams with a dominant inside presence like their opponent on Friday, Jan. 17, the Los Angeles Clippers. Clippers forward Blake Griffin dropped 32 points on the Knicks, with Stoudemire and Martin both injured.
Carmelo Anthony, while averaging 26 points per game cannot do it all. Also, while watching the Knicks, it is more than obvious that Anthony has no viable second shooting option to complement him.
The bottom line is the Knicks need to find a second bonafide shooter to help Anthony. Raymond Felton can play point guard but 11 points per game is not a second option. Neither is Smith at 12 ppg. or Andrea Bargnani averaging 13 points per game.
Play Tim Hardaway, Jr. to add some energy and spark to a lack luster lineup and acquire some scorers somehow from somewhere in the NBA. But do not put these Knicks woes on Head Coach Mike Woodson. The Knicks defense has been unusually charismatic lately. Let's hope the offense finds it way.  "We have to clean some things up on both ends of the floor," stated Chandler.