Katz Votes to Soften Penalties for Small Amounts of Marijuana
We are part of The Trust Project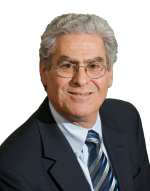 Assemblyman Steve Katz bucked his party this week, supporting a bill to decriminalize possession of small amounts of marijuana in certain situations. While Katz was the only Republican in the Assembly to vote for the bill, his office asserted the vote was not related to the assemblyman's March citation for marijuana possession.
The bill, sponsored by Assemblyman Karim Camara, would make the possession of small amounts of marijuana a violation subject to a fine rather than a misdemeanor subject to an arrest, even if the marijuana is in plain view.
"Rather than requiring excessive time and effort by our police force to deal with a small amount of marijuana, violators will be issued a ticket for a court date, which law enforcement has indicated will bring clarity to the current policy and make enforcement easier," Katz said in a statement released Wednesday. "While this bill does not change much of our current law, it is my hope that this bill will promote a broader discussion of our state's policies."
On the morning of March 14, Katz was pulled over by a state trooper for allegedly speeding on the New York State Thruway. Katz was found to allegedly be in possession of 3.5 grams of marijuana, according to police. As part of a plea deal in April, Katz was issued a reduced ticket and an adjournment in contemplation of dismissal and was given a $75 fine and 20 hours of community service.
The bill wouldn't directly address Katz's situation, since the small amount of marijuana wasn't in the open and Katz was never facing a misdemeanor charge.
"It's my understanding that this bill, regardless of its passage, would have had no impact on what happened in March," said Joseph Ahearn, a spokesman for the assemblyman. "If anything, this makes it more uniform across the state."
Voting against the legislation, though, may have been the riskier move politically for Katz, whose past opposition to legalizing medical marijuana led to calls of hypocrisy after the incident in March.
The bill passed the assembly 80-60, with most Democrats, including Assemblywoman Sandy Galef, supporting it. It will face a tougher road in the Senate, where it is expected to be brought up next week.