Katz, Izzarelli Secure GOP Nods at Westchester-Putnam Convention
We are part of The Trust Project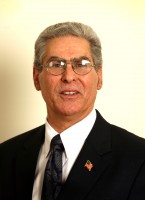 The Westchester and Putnam County Republican Committees overwhelmingly endorsed current State Assemblyman Steve Katz as their candidate for the 94th Assembly District at their nominating convention Tuesday night.
The committees also endorsed Kim Izzarelli of Ossining to challenge current State Assemblywoman Sandy Galef in the 95th Assembly District.
Katz defeated Putnam Valley businessman Dario Gristina by a margin of 12,685 votes to 550. Addressing the crowd of area Republicans after his victory, Katz said he thanked the group for their continued support.
"I'm humbled by your faith in me, and I will do everything possible to work very hard and keep that faith," he said.
Speaking to the group before the vote, Katz touted his efforts to "bring the legislature into the 21st century" and cited a bill he hopes will soon move out of committee — thanks to the efforts of a Democratic co-sponsor — that would require state politicians to include a link to their Board of Elections campaign finance reports on their websites.
Before the vote, Gristina — who had called Katz "krazy" in a press release issued after the assemblyman dropped his bid to challenge State Senator Greg Ball in the Republican primary — told the crowd he entered politics as a way of repairing what he sees as a broken state government.
"Everything that's happened in the last 20 years for this state has been a total disaster, and it needs fixing," he said.
Gristina also addressed the controversies that have arisen regarding his past business dealings and the criminal charges levied against his ex-wife Anna Gristina, who is accused of running a multi-million dollar prostitution ring on the Upper East Side.
"I've made mistakes, it was a long time ago, I think a lot of people have," he said. "But those mistakes are not who I am."
Izzarelli said she will draw on her background as a pension consultant working with small business owners to address New York's economic woes and unseat the long-serving Galef.
"Through that experience, I've gotten to understand what it's like to be a small business owner in New York. It's not fun," she said. "We rank near the top of the list for hostile economic environments."
Izzarelli, who ran unopposed, was nominated by Susan Konig of Croton-on-Hudson and approved unanimously.
The Putnam Republican committees also approved a slate of candidates for the Putnam County Legislature, including incumbent county legislator Roger Cross, Patterson Councilwoman Ginny Nacerino, former Philipstown Councilwoman Barbara Scuccimarra and Joseph Castellano, who runs the legal division of the Putnam County Clerk's office.
"I pledge to work feverishly for the people of Putnam," Nacerino said. "I take my commitment very seriously. I love my little town and I will not disappoint anyway."