Katz Drops Primary Challenge Against Ball
We are part of The Trust Project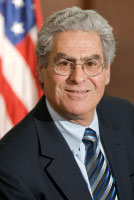 Assemblyman Steve Katz will not challenge State Senator Greg Ball in the Republican primary, opting instead to seek reelection to the assembly.
"I regret that I cannot presently offer the voters of our district a clear choice in the State Senate that pursues the integrity, honesty and Republican principles that they deserve," Katz said. "Instead, I will pursue these values and continue our efforts in the Assembly."
Katz and Ball ran together in 2010, but their once-strong political relationship turned sour in recent months. Early this month, Ball received the support of the GOP establishment for the first time in his political career, securing the Republican nomination over Katz with 70 percent of the votes at the Westchester, Putnam and Dutchess County Republican convention.
Given the convention results, Ball said at the the time that Katz should drop his bid.
"I believe Assemblyman Katz should focus on securing his solid Republican Assembly seat," Ball said. "I look forward to working with all elected officials, including the assemblyman, to maintain this critical seat and to continue delivering for the taxpayers."
Earlier in April, Somers Town Supervisor Mary Beth Murphy had said she was considering running for State Assembly if Katz continued his fight against Ball.
"I am considering it," Murphy said at the time. "People are aware of that just from talking to others so there is no point in not acknowledging that, but I still do not know what Steve Katz is doing. My decision is dependent on whether he decides to pull out of the Senate race and run for re-election for the Assembly seat."