Katonah Studio Jazz Band Headlines at Via Vanti! This Saturday
We are part of The Trust Project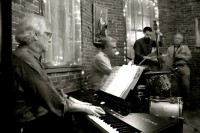 The Katonah Studio Jazz Band returns to its Mount Kisco home base, Via Vanti! this Saturday, Aug. 3 at 9 p.m., featuring keyboardist Robert Kessler, saxophonist R.J. Marx, drummer Jack Falco and bass player Phil Rowan.
Founded in 2005 by Kessler, a Grammy Award-winning composer, audio producer and pianist, and Marx, the band received its name from the rehearsal space at Kessler's Katonah studio. The Via Vanti performance comes off the recent selection of the Katonah Studio Jazz Band for Long Island Winterfest, part of the "Jazz on the Vine" series on the east end of Long Island.
Kessler has recorded, mixed and mastered several independent classical, folk and jazz albums including Playscape Recordings' "The Three B's (Bill Evans, Bud Powell and Beethoven)," "From Sorry Free" and "Hoping it Might Be So" by the vocal ensemble Charis.
Marx trained with Chicago tenor icon Fred Anderson and attended Berklee College of Music before launching a journalism career. He returned to gigging in 2001, studying with pianist Pete Malinverni and saxophonist Ralph Lalama.
Falco studied jazz at the University of Miami and with the immortal Tony William. Falco has a diverse musical background including playing with the Miami Symphony Orchestra and Circus Vargas. He is currently a member of the Long Island reggae band The Soul Junkies.
Rowan is a Queens-based double bassist and member of the group Old Time Musketry as well as singer-songwriter Kjersti Kveli's group. He is a graduate of Stony Brook University with a master's degree in classical double bass.
Via Vanti! owned by proprietor Carla Gambescia, will celebrate its fifth anniversary in September. Known for its uniquely healthful eclectic Italian fare, this local favorite, located in the landmark Mount Kisco train station, provides the perfect venue for listening to jazz while sipping wine, grazing on thin-crust gourmet pizzette and sampling unlimited tastes of their award-winning gelato and sorbetto, with 18 flavors daily. A full menu is available. Reservations are strongly suggested for the evening of this event.
Via Vanti! is located at the Mount Kisco train station. The address is 2 Kirby Plaza. For more information, call 914-666-6400 or visit www.viavanti.com or www.katonahstudiojazzband.com.