Jury Starts Deliberation in Kerry Kennedy Trial; Friday Verdict Possible
We are part of The Trust Project
By Tom Auchterlonie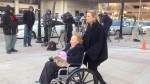 The jury for Kerry Kennedy's drugged driving trial began deliberation Thursday afternoon and could reach a verdict on Friday. Court is scheduled to reconvene Friday at 9:30 a.m. at the Westchester County courthouse in White Plains.
Deliberation started after closing statements and testimony from Dr. David Benjamin, the last witness of the trial. A clinical pharmacologist who lives near Boston, Benjamin's background includes having worked for the first company that developed Ambien (also known as Zolpidem) and had a job writing clinical studies.
Kennedy, who is accused of impaired driving and striking a truck with her vehicle on July 13, 2012, after getting onto I-684, tested positive for Zolpidem. Her defense counsel has argued that she took the sleeping medication by mistake.
Kennedy, who had a prescription for Zolpidem, testified on Wednesday that she thought she had taken her thyroid medication the morning of the accident. Kennedy had planned to go to a gym and then to work in New York City. She also testified that she had "no memory" of what happened for part of her drive, with the lapse occurring from the time she entered the interstate to her vehicle's subsequent stop in the area of Route 22 and Hunter Avenue in Armonk.
During his testimony, Benjamin referred to amnesia as being a "common" side effect of Zolpidem. He described the drug's dissemination within the body, timeline for its impact, how it can affect the brain and about impaired judgment being a result. Additionally, he testified about its impact on decision making. Results also include confusion, disorientation and problems with mental process, according to his testimony.
Benjamin was retained as a defense expert witness, which includes payment. The compensation was criticized by Doreen Lloyd, one of the prosecutors, when she gave closing remarks for the prosecution.
Lloyd and defense attorney Gerald Lefcourt differed over the relevance of evidence described during Benjamin's testimony, which was an August 2013 New England Journal of Medicine article about Zolpidem from three individuals. Part of the article referred to how people fail to recognize when they are in an impaired state, a point raised during Lefcourt's questioning of Benjamin.
The article, a copy of which is posted on the journal's website, states, "A variety of new data have shown that people affected by impairment after taking Zolpidem frequently do not recognize their impaired state; patient self-perception is not an adequate gauge for impairment."
Lloyd, however, focused on the fact that the paper covered the drug's residual effect for the following day, contending that it does not involve someone who takes a pill and then drives.
The disagreement with the journal article was one of several aspects in which the prosecution and defense presented contrasts.
In his closing remarks, Lefcourt denied the notion that Kennedy became aware of her Zolpidem ingestion and then continued to drive. In contrast, Lloyd focused on a possible timeline from ingestion to its impact that was based on expert witness testimony, using a ticking clock expression.
Touching on awareness, Lloyd argued that Kennedy had the ability to recognize her action. She also claimed that the defendant's account was inconsistent with the science. Kennedy, Lloyd argued, was trying to avoid responsibility.
Assailing Kennedy's credibility, Lloyd argued that she flipped-flopped about what happened based on two statements. In the first, Kennedy raised the prospect of a seizure as having been the cause. In the second, which was in connection to a drug test result confirming the presence of Zolpidem in her system, Kennedy deferred to an earlier instinct that she had. Kennedy told police about the possibility of accidental usage of the drug, it was noted during the trial.
On the night following her drive, Kennedy was not sure whether the cause was a seizure or taking the wrong medication, Lefcourt contended in his closing remarks. Lefcourt brought up how the statement that Kennedy issued about a possible seizure was based on what doctors believed at the time.