Jones a New Voice at the Right Time for 17th Congressional District
We are part of The Trust Project
Sometimes life is about being at the right place at the right time.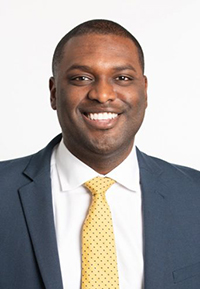 In some respects, that could sum up the political ascent this year of Mondaire Jones, the Democrats' choice to succeed Nita Lowey, who is retiring at the end of the year after 16 distinguished terms in Congress.
Riding the crest of an increasingly progressive Democratic Party, particularly in downstate New York, the Rockland County native handily defeated a strong field of capable Democrats in the June primary.
But chalking up his success to simply timing would be selling Jones short.
Now, there's no doubt he's quite progressive, and that will rankle nearly all of the politically conservative set, and some Democrats as well.
The 33-year-old graduate of Stanford and Harvard Law, Jones worked in the Westchester County attorney's office before embarking on his political career. Listen to him speak, he makes sense even when you may disagree.
Advocating for a $15-an-hour minimum wage – something that is already in place in New York – equity in education and putting people to work through an infrastructure funding program, all issues that Jones supports, is common sense.  So is having a national strategy to fight COVID-19.
Don't care for Medicare for All or the Green New Deal? That's fine, there are many in his own party who won't support it either.
But Jones is also pragmatic. In an interview with The Examiner earlier this year, he said Medicare for All is his ultimate goal, but he would support a public option to get more people insured. What is clear is that the entire country can't just rely on employer-based health insurance, as the pandemic has so painfully revealed.
There is no question that given the nation's $27 trillion debt and problems coping with COVID-19, the Green New deal is a laudable but unrealistic plan. That doesn't mean that pieces of it can't be borrowed when the time is right.
Jones' Republican opponent, Maureen McArdle Schulman, deserves praise for having the courage to get into the political arena as a newcomer – and run for Congress, no less. But that's nothing new for Schulman. In 1982, she was part of the first class of female New York City firefighters to graduate. There were 38 women and about 10,000 men. Nearly 40 years ago, that took considerable audacity.
However, many of Schulman's proposed policies are insufficient in a time of need. Leaving decisions on mask wearing and shutdowns entirely up to state and local governments have left the country reeling from the virus.
Health saving accounts could have some value, but the price of private health insurance, which she advocates, remains too high and would still expose too many families to financial ruin in the event of an emergency.
And Schulman's skepticism of money for states isn't what's needed.
In today's hyper-partisan atmosphere, even well-meaning people of all political stripes too often feel compelled to never disagree with their candidate of choice, and conversely, never find common ground with an opponent.
As the late New York City Mayor Ed Koch was once quoted as saying, "If you agree with me on 9 out of 12 issues, vote for me. If you agree with me on 12 out of 12 issues, see a psychiatrist."
There are times when there will be disagreements with Mondaire Jones, but he is by far the most impressive candidate in this race.