Jefferson Valley Lanes, Jefferson Valley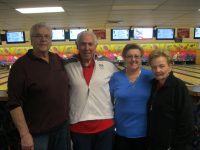 It has been a popular destination for northern Westchester and Mahopac residents for decades and it is still going strong.
Jefferson Valley Lanes was purchased by Vito Giordano of Fishkill and his brother and Somers resident, Joseph, from Brunswick in 1994 and has been operated by the family ever since.
Owning a bowling alley was an extension of his previous career, Vito Giordano said last week. "I was in the snack bar business," he recalled. "With the snack bars, I had them in bowling alleys all over Westchester."
"I always liked bowling," he said. "When I came over from Italy they introduced it to me and I've loved bowling ever since."
Giordano moved with his parents to the United States in 1956 when he was 10. "My dream was always to have a bowling center," he said. "I love the business. I love talking to people."
Though "there was a little lull for a while," bowling is again becoming popular, Giordano said.
JV Lanes has a variety of programs for bowlers, including family entertainment, "moonlight bowling" on Friday and Saturday nights, and corporate and children's parties.
Giordano said bowling is a social activity. "It's a family entertainment," he said. Giordano's sons, Vincent and Steven, who are very good bowlers, will offer to assist first-time bowlers, he said. "We show them the ropes," he said.
Vito's wife, Helen, also works at JV Lanes. "She does all my receipts in the back in the office" he said.
The facility has 24 bowling lanes, a snack bar with a wide variety of offerings, including pizza, finger foods, sandwiches and wraps; an arcade with about 20 game machines; and a recently renovated bar lounge.
JV Lanes holds several bowling leagues for youths and adults and often hosts the mentally-challenged, Giordano said. It also holds several bowling tournaments.
Most of the JV Lanes customers reside in Ossining, Cortlandt, Somers and Mahopac, Giordano said.
Customer service has been a key to the success of JV Lanes, Giordano said. "We're just nice to the customers all the time," he said. "We're very happy that we get the business and we show our appreciation."
Jefferson Valley Lanes is located on Hill Boulevard (Old Route 6) in Jefferson Valley. For more information, call 914-245-7771or visit http://jeffersonvalleylanes.com. Jefferson Valley Lanes also has a Facebook page.