Jacob Burns Program Graduate Wins Prestigious Film Short Awards
We are part of The Trust Project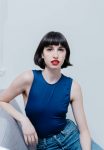 When the 91st Academy Awards ceremony is held next February, Emily Ann Hoffman could be one of the filmmakers in line for a world famous golden statuette.
The 2011 Fox Lane High School graduate and Bedford resident received the Best Animated Short award at the 2018 Palm Springs International Shortfest in June for her work "Nevada." The festival is the largest for film shorts held each year in the United States.
"It was very special to be there to accept the award in person," Hoffman said.
Hoffman is now eligible to participate in the process that will determine the nominees for the Oscar in that category.
The 12-minute film was also screened at this year's Sundance Film Festival and Edinburgh International Film Festival in June where it was recognized as Best Short Film. The jury at Edinburgh praised Hoffman's film, stating, "(t)his stop-motion animation was commended for its originality and in particular for its depiction of intimacy. It tackled an interesting and important subject in a unique and charming way."
"Nevada" was conceived as part of the Jacob Burns Film Center's Creative Culture Program, a fellowship that provides resources, including equipment and mentoring from industry professionals to help produce two short films. Young adults between the ages of 18 and 24 are eligible to participate.
The process of creating "Nevada" began with sketches, storyboards and the writing of the script, Hoffman said. Voice actors recorded the script before Hoffman completed the animation with stop-motion puppets. She then edited the film, taking nine months to complete.
"Nevada" is the story of a young couple's romantic weekend getaway being marred by a birth control mishap. The man forgets to use a condom while making and his girlfriend is forced to take an emergency contraceptive. The premise is based on situations she has heard from women, Hoffman said.
"It's a story that I think people find a lot of connection with," she said.
Hoffman, 24, said she wanted "Nevada" to take away the stigma about the need for emergency contraception.
Hoffman, a 2015 Rhode Island School of Design graduate who majored in illustration, is currently a screenwriting mentee with Sundance Institute's Feature Film Program. She said enrolling in the Burns' Creative Culture Program was a perfect post-college opportunity to work within an artistic community to develop and produce a short film she was eager to make. She received a small grant, a work space and mentorship.
"I always loved television and movies and would constantly imagine my own stories and scenes in my head," Hoffman said. "It wasn't until I started taking animation classes my junior year of college that I realized this was my passion, emphasized by an exposure to independent film through festivals post-college."
Hoffman said she enjoys the idea of making animated films for adults. The reputation among many people is that animated films are "just for kids," she said.
Hoffman is uncertain whether she will pursue an Oscar nomination because she would be required to hold costly screenings for Academy members, she said. Regardless of her decision, being honored at two film festivals has been a great experience, Hoffman said.
"It's crazy, I feel overwhelmed," she said. "Hopefully, the next step is to make feature length films."