Jack O' Lanterns Aglow at Desmond-Fish Library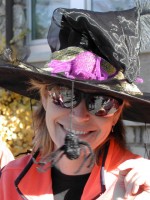 Beware the hobgoblins.
It's that time of year when spooky spirits and scary ghosts cruse around the crisp fall air and just might end up on your doorstep. But not to worry. Thankfully there is a safe haven for the community to come and light their jack o' lanterns  together, trading those nighttime frights for Halloween enchantments.
The third annual "Pumpkin Glow" at the Desmond-Fish Library on Sunday, October 28th at 6:00 pm is just the place to bring your wildly carved pumpkin and place it beside all the other fantastic, flickering creations that will herald in Halloween. Children of all ages can appreciate the sculptural handiwork of local gourd carvers along with live, festive and seasonal music sung by Stacy Labriola.
"Since this event is 'Halloweenish' I have some new songs," said Labriola who will accompany herself and the crowd on guitar. "There will be songs about pumpkins, fall foliage and the tried-and-true songs everyone knows."  Labriola will arrive with dress-up props to get kids in the mood.
Last year's Pumpkin Glow was well attended with over 100 jack o' lanterns   exhibited on tables set up outside the library. "We've lucked out the last couple of years with good weather," said Desmond-Fish Library director Carol Donick. "It all started a few years ago when one of our board members heard about a pumpkin glow event in another state and we thought it was something the community would enjoy. It turned out to be a fabulous idea."
Donick said that the Pumpkin Glow is particularly fun when it starts getting dark and all the pumpkins are lit and the outside library lights are turned off. Kids and grownups join in singing with Labriola. "Stacy sang for us last year and we asked her to come again," said Donick. "She has a wonderful way with children and gets them involved, some of the songs are interactive."
Labriola said she enjoys these types of local celebrations. "It's a really sweet community event, especially now that the weather is starting to get chilly and it's  getting darker earlier. The kids are getting in the mood for trick-or-treating." Labriola is the director of a full  day nursery school in Garrison and has run many Baby & Me and Pre-K  music classes throughout Philipstown and Westchester. She is also the founder  of the country rock/folk  group MotherLode.
For the "Pumpkin Glow" event the library will offer spare candles as well as surprise decorations to go with the pumpkins. Free refreshments will include the traditional cider and doughnuts.  "The children seem to have a wonderful time admiring the  jack o' lanterns  while they run around in the evening," said Donck. "We also give out Glow-Sticks, which actually is a double advantage – while they are playing it's easier for us to see them as it becomes dark."
Pumpkin Glow is one of the many events and programs held at the Desmond-Fish Library that is geared towards youngsters. "We want children to connect with the library and think of it as a fun place everyone can go and where there are all kinds of cultural resources," said Donick. "It's starting the library habit for children early so that they will continue going to libraries throughout their lives. They're our next generation of readers, so they are important."
"Pumpkin Glow" Sunday, October 28th at 6:00pm (rain or shine)
Desmond-Fish Library
472 Route 403
Garrison, NY 10524
desmondfishlibrary.org or call 845-424-3020
By Abby Luby
This event is free. Bring a carved pumpkin (with a candle) to add to the glow and take it home with you when you go.