Ivy Rehab Physical Therapy, Putnam Valley
We are part of The Trust Project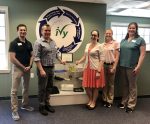 Carmel resident Chris Kennedy, director of physical therapy at Ivy Rehab Physical Therapy in Putnam Valley, has had a long career working as a physical therapist in Putnam Valley.
Ivy Rehab is where Kennedy has worked for the past three years but Kennedy said he has actually been working at the Peekskill Hollow Road site for about 15 years. The previous owner sold the business to Ivy Rehab in 2015.
The name Ivy Rehab came about because the two original owners of the corporation graduated from Ivy League universities, Kennedy noted.
"We're one of 124 offices," Kennedy said. While Ivy Rehab currently has offices in the tristate area and the Midwest, the corporation will soon go nationwide, he said.
Aside from his administrative duties Kennedy also does physical therapy at Ivy Rehab. Many services are available at Ivy Rehab, Kennedy noted.
"We do a whole host of different treatments here," he explained. Patients come to Ivy Rehab with a wide variety of issues, including strains, sprains, dizziness, neurologic issues, being out of shape and feeling fatigued.
Patients are often referred to the business through doctors' prescriptions, Kennedy said. But, he explained, under state regulations for up to 10 visits or one month, a prescription is not required.
The staff at Ivy Rehab can help out of shape clients get into an exercise routine and healthy living, Kennedy said. "You can give them a path," he said.
Treatments are provided based on a patient's conditions, Kennedy said. Some of the treatments include electrical stimulation, moist heat, hands-on manual therapy, stretching and message. Patients are also given exercise assignments they will do at home in an effort to prevent recurrences of physical problems that brought them to the facility in the first place, Kennedy said.
In addition, Ivy Rehab provides its patients with "strategies of how to avoid those painful conditions in the future," Kennedy said. Some of the strategies include showing patients how to correctly lift objects and shovel snow "and strengthen the muscles so it won't happen again," he said.
Kennedy said he decided to become a physical therapist after previously seeking to be a psychologist. "I really enjoy talking to people, I enjoyed listening, I just want to make people feel better," he said.
Kennedy said he decided to change what he wanted to do for a living because "I'd like to see results a little quicker than say a psychiatrist or a psychologist would," he said.
Being a physical therapist "helps someone emotionally, mentally and also physically at the same time," Kennedy said. "I love it."
Other staff members include Dr. Rick Pezzullo, physical therapist; Mia Azcue, physical therapist; Ellie Stairs, patient coordinator; Meagan Gallagher, PT Aide; and Brigid Reilly, Pt Aide.
Ivy Rehab Physical Therapy is located at 21 Peekskill Hollow Rd., Suite 201 in Putnam Valley. For more information, call 845-528-3133 or visit https://www.ivyrehab.com/location/putnam-valley-ny or the office's Facebook page.