It's Summertime; Reach For a Cold One and Chill Out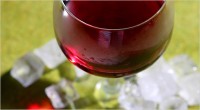 I run into a personal wine dilemma every summer. I prefer red wine, but wilting summer temperatures preclude me from enjoying my favorites off the home or wine shop shelves.
Most red wines at these "room temperatures" are invariably off-putting. The alcohol is exaggerated and any minor sweetness comes to the forefront. The wine tastes cooked. It is incompatible with most light summer foods, which pair so well with chilled white wine and the increasingly popular rosés. But chilling red wines is looked upon with disdain by most wine lovers.
What's a fellow to do? I really like red wine in the summer.
Of course, I can be coaxed to drink chilled whites and rosés (and the occasional microbrew). I've endeavored to drink red wines at weekend barbeques, beach parties and other outdoor gatherings. Invariably the wines are served at the ambient outdoor temperature and I quickly switch to chilled whites and rosés.
I enjoy these wines, but I really like red wine in the summer.
Rosé has been the traditional go-to wine for me in the summertime. Just as white shoes, pants and dresses become acceptable attire after Memorial Day, so too do rosés emerge on wine shop shelves in late May. Provence has been the epicenter of all things rosé for centuries, but the Italians and Spanish are now becoming worthy contenders. Excellent choices abound.

But I really like red wine in the summer.
I also enjoy thirst-quenching, chilled white wines on hot summer days, especially with light summer food. A Sauvignon Blanc from the Loire Valley is the front line of summer thirst quenchers: bright, crisp, minerally, with just enough acidity to chill-out. Add bubbles to a white or rosé wine and you have a versatile summer quaffer, especially Spanish Cavas and Italian Proseccos.
I enjoy these wines also, but I really like red wine in the summer.
Not that I haven't tried to solve my dilemma. I've followed the traditional white wine chilling advice: place a bottle of wine in the fridge for twenty minutes and voila, the ideal temperature is achieved. I've tried a few other tricks I've discovered in my travels, including adding frozen grapes or plastic enclosed ice cubes to a glass of wine for a quick chill without diluting the wine.
The problem with these failed solutions is simple. My favorite red wines don't maintain their aromas and flavors when chilled to white wine temperatures. Cabernet Sauvignon, Syrah, Barolo and Bordeaux blends lose their bouquet and complexity, and worse, tend to intensify their tannin levels while subduing their fruit. Not very enticing.
What's a fellow to do? I really like red wine in the summer.
After abstaining from red wines in the summertime for a number of years, I finally had an epiphany. Not all red wines resist chilling. The aroma and flavor profile of wines produced from select grapes present their best expression when slightly chilled. Why try to change an immutable law of science, when Nature has solved the dilemma for me?
Wines which are light-bodied, dry with a slight touch of fruit, a healthy level of acidity and minor, if any, tannins are prime candidates for chilling.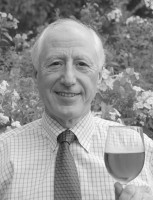 With these guidelines burnished in my memory, I (slightly) chill select wines with impunity. At the top of the leader board is Beaujolais. More acidic than fruity, with a relatively low alcohol level, its bouquet is enhanced at 50 degrees. Pair it with summer green or pasta salads or sip it with turkey or tuna burgers, even a cheeseburger with caramelized onions. Other adaptable red wines are very location specific, including Central Coast Pinot Noir, French and Spanish Grenache, French Cabernet Franc, Italian Dolcetto, even a few Chiantis. Looking to experiment with new wines? Try Austrian red wines; Zweiglet and Blaufränkisch fit the born-to-be-chilled profile.
Ah, I enjoy these wines. I really like red wine in the summer.
Nick Antonaccio is a 30-year Pleasantville resident. For over 10 years he has conducted wine tastings and lectures. He is co-host of "Glass Up, Glass Down," a local cable television series on wine and food; he also offers personalized wine tastings and wine travel services. Nick's credo: continuous experimenting results in instinctive behavior. You can reach him at nantonaccio@theexaminernews.com or on Twitter @sharingwine.