Irrelevant Elephant, Mount Kisco
We are part of The Trust Project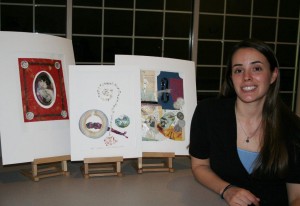 Laura Craig, owner of the new Mount Kisco art studio Irrelevant Elephant, couldn't imagine herself behind a desk for seven hours a day. She's happiest when she's teaching art, imparting her knowledge to a diverse group of curious students that include preschool children, teens and adults.
As a child, Craig said she was always interested in art and believes she inherited her creativity from her mother, a children's book author who also sculpts. After acquiring a bachelor's degree in fine arts from the School of Visual Arts in New York City and later a master's degree in art education from the same school, Craig moved to Los Angeles for a while. Lured back to the East Coast in 2009 after the recession hit, Craig found herself working as a teacher at the Virginia-based art education company Abrakadoodle, which offers visual arts classes, camps and parties for children 20 months to 12 years old.
Finding the teaching environment at Abrakadoodle invigorating, especially her work with younger children, Craig remained with the franchise for two years, until the opportunity to start her own art studio emerged. On Oct. 3, she opened her new business, giving it the quirky name Irrelevant Elephant, based on a colleague's attempt to draw a character from a children's book that inadvertently turned into an image that resembled an elephant.
Despite being a fledgling business, Craig already has a substantial roster of classes for all ages. One class, "Your Baby is a Genius," offers a fun, social environment for children from 18 months to three years old that focuses on developing motor and cognitive skills. Craig said she enjoys watching the little ones make different colors, draw different shapes and devise ways to use their hands to create art.
Other children's classes include "Art History: Art Across Cultures" for pre-K to kindergarten; "Sculpture: Materials & Methods" for grades K-4; "Art: Drawing, Painting, Sculpture & More" for grades 5-8; and "Illustration: Greek Mythology" for grades 4-6.
Craig said it's important she know the learning styles of her students.
"Sometimes you have to expect that they're going to be full of energy and won't always pay attention, while other students will be more focused," she noted.
Classes that stress culture and art history are particular favorites of Craig's. The 10-week course, "Collage: Inspired by Art History" for teens and adults, draws its inspiration from different masterpieces, she said. Students are encouraged to bring paper, fabric, string or whatever else inspires them to create their collages, an excellent way to develop composition, movement, contrast, texture and other art and design elements, Craig said.
Collage, often referred to as mixed media, is perhaps Craig's favorite art form. You'll find examples of her past work throughout the studio, but she often looks to the works of others for inspiration. Her favorite mixed media artist is Joseph Cornell, famous for creating glass-fronted, handmade wooden boxes containing a myriad of objects such as thimbles, old photographs, marbles and seashells.
Craig said she is excited about other workshops she offers at her spacious Lexington Avenue studio. For children, they include a one-day photography camp, which includes a lesson on how to operate a camera and experiment with composition; a high school photography seminar that will focus on the photographic process from start to finish; the fundamentals of digital photography, geared toward beginners or those interested in learning more about their digital cameras; fondant cake decoration; and an adult's night out offering wine and a painting session.
What is perhaps most gratifying about being an art instructor is seeing students create works that they had no idea they could produce.
"I'm always surprised by how creative people can be," Craig said. "It's like everyone has this little creative spark that they're not aware of."
The studio, located at 293 Lexington Ave., is available for birthday parties and local artists are  welcome to use Craig's space for independent studio time. To obtain information on open studio hours and rates, call 914-666-2767 or email irrelevantelephantartstudio@gmail.com. For more information, visit www.ieartstudio.com or the studio's Facebook page, http://www.facebook.com/pages/Irrelevant-Elephant-Inc/266695816674916