Irish Music 'Seisiun' at Dunne's Pub, White Plains
We are part of The Trust Project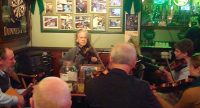 Menu Movers & Shakers By Morris Gut
The green line has been painted down Mamaroneck Ave. in honor of St. Patrick's Day 2017. But regulars gather at Dunne's Pub on Shapham Place in White Plains every Wednesday evening all year long, taking their seats at the bar for their first taste of happy hour, hungry patrons filing in to be seated in the cozy dining room, where the reveling is about to begin.
Dunne's Restaurant & Pub is a neighborhood treasure, an authentic Irish tavern with all the traditional Gaelic accouterments intact. Over the years, owner Sean Dunne has taken great care not to get caught up in the modernist Irish mode so prevalent these days. It is a friendly, authentic home-style place with a good kitchen to boot, dishing out generous servings of Irish-style fare at prices that will leave some money in your wallet. Sean and his nightly barkeep Nicky also know how to pour that pint of Guinness while keeping the crowd in spirited conversation.
But on Wednesdays here, the buzz is always about the Irish 'Seisiun' (sort of an Irish musical jam open to all comers), and it has been a draw for 20 years. It is orchestrated each week by award winning musician Brian Conway and begins promptly at 7:30 p.m. It is like taking a trip to Ireland without leaving Westchester and I recommend a dose of it to all.
Along with such spot-on kitchen specialties as their fabulous Corned Beef Reuben Sandwich, Plain Jane Burger served on a Kaiser roll, Beer Battered Fish & Chips, Grilled Irish Bangers, Gaelic Steak with an Irish whiskey cream sauce mushrooms and fresh tomatoes, and Cheddar Cheese Meatloaf served with Irish beans and mashed potatoes.
Special Hint: If you crave Oktoberfest specialties year-round, Sean Dunne tells us he serves an Oktoberfest menu the first Thursday of each month.
The crowd here is most welcoming, so come in and join the fun!
Dunne's Restaurant & Pub is located at 15 Shapham Place, just off Mamaroneck Ave. in White Plains. The restaurant is open 7 days a week for lunch, dinner and Sunday brunch. Price range: appetizers from $4. Main courses and sandwiches: $6.95 to $17.95. Bar/lounge. Casual dress. Reservations suggested for larger groups. Ample municipal parking next door. Phone: 914-421-1451. www.dunnespubandrestaurant.net.
McShane's Public House, Port Chester
Edmund Cleary had worked for Dunne's Pub in White Plains for many years, a personable barkeep who knew how the keep the crowd buzzing. Vincent Furey tended bar at Davy Byrnes Irish Restaurant in Port Chester. Longtime friends, they partnered to open McShane's Public House converting a former Latin restaurant into an Irish gastropub with wrap around bar, original tin ceiling, table and booth seating, a free-standing community table, and plenty of TVs to keep up with daily events. Best news of all is the menu offers above average gastro-fare loaded with flavor. Take their overstuffed Corned Beef Reuben: it is a winner for its tender corned beef, pickled cabbage, stout mustard and Gruyere cheese. Great Buffalo-style Wings. The Spiced Lamb Sliders with roast tomato salsa will pique your palate as well. Cleary and Furey have put their own signature to all their menu items from the plump juicy Burgers to the McShane's Fish & Chips. McShane's Public House is located at 123 N. Main Street, Port Chester. Open for lunch, dinner and weekend brunch 7 days a week from 11:30 a.m. to 4 a.m. Phone: 914-937-7800. www.mcshanesportchester.com.
Everyone Is Irish On St. Paddy's Day
The leprechauns are coming! St. Patrick's Day, Friday, March 17, will be celebrated with all its local color. Of course, there are the parades. The 20th annual City of White Plains St. Patrick's Day Parade will take place on Saturday, March 11, starting at noon. Throughout the area, towns and villages are hanging shamrocks on storefronts and homes giving the Hudson Valley its sparkling moment in the Emerald Isle. Here are a few suggestions if you want to partake in the traditional foods and reveling sprinkled with a good dose of blarney. Be sure to check ahead for special events, and larger groups are advised to make advanced reservations. Erin Go Bragh!
Check out Dunne's Pub, 15 Shapham Place, White Plains (914-421-1451), where owner Sean Dunne will host the reveling with live music and plenty of traditional tavern fare; Brodie's Pub, E. Main St., Mohegan Lake (914-528-1614) will feature Irish entertainment, bagpipers, step dancers and Irish kitchen specialties all month; Lazy Lounge right next to Lazy Boy Saloon, 152 Mamaroneck Ave., White Plains (914-761-0272) will offer live music and kitchen treats; Brazen Fox, 175 Mamaroneck Ave., White Plans (914-358-5911) will have a full menu of traditional Irish specialties and spirits; Red Line Saloon, 5739 Albany Post Road, Cortlandt Manor (914-358-5740) will serve $5. pints of Guinness along with corned beef and cabbage, Irish bangers, and homemade Shepard's pie; Brian Mahon's Hudson Grille, 169 Mamaroneck Ave., White Plains (914-831-5663) will have platters of Irish food available; Vintage, 171 Main St., White Plains (914-328-5803) is where Declan Farrell and his staff will be serving a full roster of entertainment and Gaelic specialties. Bob Hyland's Sports Page Pub, 200 Hamilton Ave., White Plains (White Plains Mall; 914-437-8721) will be serving traditional Irish food along with their regular menu of reasonably-priced 'Hall of Fame' specialties: Fish and Chips; Homemade Shepard's Pie; Sizzling Fajitas; BBQ Babyback Ribs; Cobb Salad; and Oriental Chicken Pasta. There are finger foods galore, along with such indulgences as burgers, sandwiches, hot dogs and sliders.
Morris Gut is a restaurant marketing consultant and former restaurant trade magazine editor. He has been tracking and writing about the food and dining scene in greater Westchester for 30 years. He may be reached at: 914-235-6591. E-mail: gutreactions@optonline.net.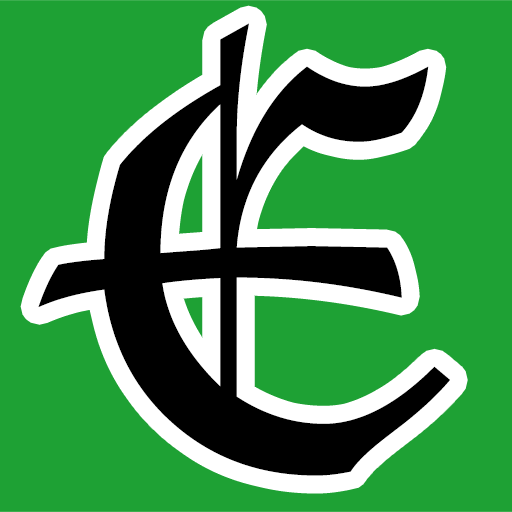 Examiner Media – Keeping you informed with professionally-reported local news, features, and sports coverage.