We are part of The Trust Project
If you enjoy flavorful Indian food that's not overly spicy, Indi-Q in Armonk is the place to visit.
Owned by White Plains native Jay Patel, the Indian bistro and BBQ restaurant that is Armonk's only Indian restaurant, opened for business in February.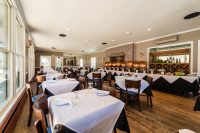 Indi-Q offers customers something different, in this case, a Tapas-style Indian barbeque cuisine that separates it from other Indian restaurants, Patel said. Much of the fare is slow-cooked in a charcoal clay Tandoor oven. While barbecue Indian food might suggest spicy to some, Patel said the items on the menu are more flavorful than spicy.
Patel isn't new to the food industry. His family has been running Indian restaurants across Westchester and Connecticut for 30 years. As a teenager, Patel recalled helping out at his father's restaurant, Tandoori Taste of India in Port Chester. After he graduated from SUNY Albany with a business degree, he managed another family restaurant in Stamford called The Fez, which specialized in Mediterranean and Moroccan cuisine.
The seven years he spent managing the Connecticut eatery was a critical learning experience, Patel said. Not only did he manage the restaurant, he also ran the bar and was responsible for hiring entertainment.
"It was tough in the beginning because it was a new concept, but it gave me the ability to build something from scratch," Patel remembered of the restaurant that his father later sold.
Some of the popular barbecue dishes at Indi-Q include Chicken Tikka, Tandoori Salmon, Lamb Boti Kabob, Seekh Kabob and New Zealand lamb chops grilled and marinated on both sides in yogurt, ginger and garlic.
Of course, you can still order the traditional Indian classics at Indi-Q such as curry, masala, madras, korma and vindaloo dishes as well as a number of Indian specials.
Patel and his staff include selections such as Lamb Rogan Josh, a slow-braised lamb cooked in an onion-based gravy and combined with a traditional yogurt curry sauce; Shrimp Malabar, consisting of jumbo shrimp cooked in an aromatic sauce flavored with coconut and seasoned with mustard seeds, black pepper and red chilies; and Biryani, a steamed saffron basmati rice dish seasoned with traditional Indian spices and combined with either chicken, lamb, goat, shrimp or vegetables.
Starters or small plates, as they are known on the menu, include many delicious options, including The Classic Samosa, a pair of crispy pastries stuffed with potatoes and green peas, and Root Fritters, made of turnip, yams, onions and sweet potatoes served with a tamarind sauce and battered and fried in chickpea flour.
"We want to give good quality food and service so people come back time and time again," Patel said.
Everything on the menu is available for take-out and delivery. Customers ordering take-out for the first time will receive 10 percent off.
Mindful of customers' health needs, Patel said most of the breads and meals at Indi-Q are gluten-free, with lots of vegan options, too.
Some of the homemade breads include the traditional, garlic and onion naan breads and paratha, a multi-layered whole wheat bread; Poori, a puffed whole wheat bread; and Tandoori Roti.
In addition to its regular evening menu, Indi-Q also offers a daily lunch buffet from 12 to 2:30 p.m. for $14.95 a person. The menu, which includes a selection of the restaurant's best-selling appetizers, entrees and desserts, changes every day, Patel said.
The 2,000-square-foot restaurant also offers catering service. It contains about 20 tables in the main dining room and seating for six in the outer bar area.
While there's evidence of Patel's Indian heritage throughout the restaurant, the décor is decidedly contemporary.
Indi-Q is located at 61 Old Route 22 in Armonk. To make a reservation, call 914-273-5931. The restaurant is open seven days a week for lunch from 12 to 2:30 p.m. and for dinner from 4:30 to 9:30 p.m.
Colette Connolly is a copywriter and p.r. expert. She owns Connolly Communications, which is based in Bronxville, New York. Colette specializes in providing content-rich, SEO-optimized press releases, articles, newsletters, brochures, and customer success stories.