Inaugural Ceremony Marks New Beginning for Putnam
We are part of The Trust Project
Three returning legislators and Putnam's district attorney were sworn in during the county's inauguration ceremony this past Friday. Nearly two months after Putnam County Executive MaryEllen Odell was sworn-in on the steps of the Historic Courthouse, Sam Oliverio (District 2), Richard Othmer (District 3) and Dini LoBue ( District 8 ) were inaugurated alongside Putnam County District Attorney Adam Levy on Dec. 30.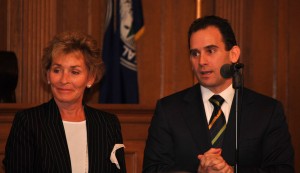 "Today is a very special day, as Putnam County continues to write its history," Putnam County Clerk Dennis Sant, who led the event's opening remarks, said. "Our local officials are the backbone of our nation—please don't look at Washington or Albany to be our example of how to run government. Please look at your own hearts and into the eyes of the people who brought you here."
Sant said that the elected officials being sworn in should remember it's a "mantel of responsibility" and should take into account the constituents, not the hunger of power or self-serving attitudes, when making decisions regarding the direction of Putnam County.
"It is an awesome responsibility that should not be taken lightly," Sant said. "It's an honor to be elected, but it's a greater honor to serve."
Putnam County District Attorney  Adam Levy, who ran unopposed during the Nov. 8 election, was the first on the docket to be sworn-in during Friday's ceremony. Levy was sworn in by his mother Judy Sheindlin, a retired family court judge and star of "Judge Judy," a small claims court featured on CBS Television.
"Every day I get up and go to work with one thing in mind, and that is do whatever is necessary to uphold the oath that I take to office," Levy said. "As district attorney, my responsibility to the people of Putnam County is to prosecute the guilty, to protect the innocent and to defend the Constitution and I along with my wonderful staff do that every day by prosecuting cases without fear and without favor. It doesn't matter who you are, who you know or what political party you belong to—if you break the law, you will be held accountable."
Accompanied by his girlfriend Priscilla, District 2 Legislator Sam Oliverio was sworn in by John W. Sweeney, Jr., an Associate Justice of the New York Appellate Division of the Supreme Court. Citing that this is his last time that he will seek a position on the county legislature, Oliverio said he was a proud Blue Dog Democrat, fiscally conservative yet liberal when it comes to social issues. Oliverio narrowly defeated Republican Allen Beals on Election Day.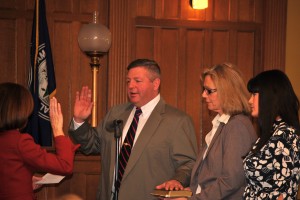 "Yes, I'm a Democrat—thank god we have legislators who sit here who care about the people of Putnam and they're not governed by political party but it's also important to have the other side of the political spectrum represented and I'm very proud the people of Putnam Valley and Putnam saw that," Oliverio said. "We live in the most terrific county I believe in New York State or for that matter, the entire United States."
District 3 Richard Othmer also ran unopposed on Nov. 8 and was sworn in by U.S. Rep. Nan Hayworth during the Dec. 30 ceremony.
"I want to thank the people for electing me again and we have a really good group of people working for us," Othmer said. "I feel like [Putnam] has a Renaissance—even though we're in a recession and we're at war, I see nothing but good things for this county."
Dini LoBue, who represents District 8, defeated opponent and former longtime county legislator Bobby McGuigan, Jr. during the Nov. 8 election. She was also sworn in by Hayworth.
"I wouldn't be standing here without the people of District 8," LoBue said. "In the coming years I know we'll be facing hard times and making difficult decisions, and I have the political courage I believe is necessary to that."
Sworn-in on Nov. 11, MaryEllen Odell offered her thanks to Paul Eldridge, who was appointed county executive after former state senator Vincent Leibell resigned due to corruption charges.
"We thank [Paul] for his grace, integrity and just being [him]," Odell said. "You have exceeded all of widest dreams. I'm honored and excited to be working with our newly-elected officials."