In Latimer-Killian Debate, Focus is on Changing Albany
We are part of The Trust Project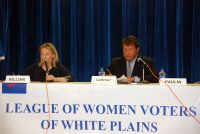 By Andrew Vitelli – While Thursday night's debate between State Sen. George Latimer and his Republican challenger, Rye City Councilwoman Julie Killian, highlighted a number of policy differences on education, taxes, and reforms, much of the evening featured each candidate offering themselves as the logical choice for voters seeking change in Albany.
Killian, in her opening statement, said she decided to run for office when then-Assembly Speaker Sheldon Silver was arrested on corruption charges and pointed to enacting term limits as one of her top priorities.
"Albany is a mess right now," Killian, a Republican, said later in the debate, hosted by the League of Women Voters of White Plains and held at the Church Street School in the city. "If people are happy with what's going on in Albany and they like the status quo, absolutely vote for him [referring to Latimer], because I want reform and I want changes."
Latimer countered that the way to change the status quo is to replace Republican Senate Majority Leader John Flanagan by giving Democrats a true majority (as it now stands, Republicans hold the chamber because five Democratic senators have caucused across party lines).
"You don't need a new legislator to represent you in this district. You need new leadership in the State Senate," Latimer said during his opening statement. Later, with the Senate minority leader, who represents parts of White Plains, in the audience, he added, "I want to make Andrea Stewart-Cousins the head of the Senate. She'd run it more openly."
Three of the 13 questions, taken mostly from audience members, had to do with education policy, with the candidates differing on the role of standardized testing and charter schools. Latimer said public schools have not been properly funded and called the government's focus on standardized test scores "misdirected policy."
"I think that the bulk of how you judge a teacher is not through a quantitative measure but through a qualitative analysis," Latimer said. Latimer hedged his endorsement of charter schools, saying, "There is a case to be made for charter schools under certain circumstances, but charter schools will never deliver the across-the-board education that public schools will. So I put public schools at the top of my list for priority and attention."
Killian showed more enthusiasm for charter schools.
"I believe in an 'all of the above' education policy. I am 100 percent in support of charter schools," she said. "I believe we should also have the education tax credit that will help our religious schools."
Standardized testing, she said, should play a role in teacher analysis but should not be the only factor.
Killian teed off on Wicks Law, which requires school districts and municipalities in the state to seek separate bids for construction, electrical, HVAC and plumbing work on projects over $50,000, which critics say severely drives up costs. Latimer cautioned that Wicks Law was enacted to prevent corruption. "You need to understand what the Wicks Law is before you blithely say, 'It's got to go,'" he said.
Latimer, a former Rye City councilman who served for eight years in the Assembly and was elected to the Senate in 2012, sought to paint his opponent as a sound-bite candidate lacking any nuanced understanding of policy.
"You cannot reform what you don't understand, and you can't talk in sound bites," he said in his opening statement, returning to this theme frequently over the course of the debate. "You have to talk in substance."
Killian pushed back towards the end of the debate in the evening's most contentious exchange.
"My opponent continues to talk about how I don't understand the nuances and he's the substance guy and I'm the sound-bite woman. I have a degree in chemical engineering, I have an MBA from NYU," she said. "I am confident that I can figure out how things work in Albany."
To that, Latimer responded that he was trying to provide substantial responses and, "if you have a guilty conscience about your answers, you deal with that."
The candidates were asked whether they supported their party's nominee for President, a tougher proposition for Killian, as the 37th Senate District has nearly 50 percent more Democrats than Republicans and neighbors Hillary Clinton's Chappaqua home. Without mentioning him by name, Killian said she had called out Donald Trump for his rhetoric.
"I find the discussion on the national level disgusting and vulgar, and on both sides there are problems. It's embarrassing," she said, not quite giving an answer for whom she would vote. "I've been 100-percent focused on what needs to happen in Albany and reforms in Albany, so I haven't been paying as much attention to the national level."
Latimer followed with an unequivocal endorsement of Clinton but added that she, like himself, was not perfect.
Killian, who worked for Merrill Lynch and has been on the Rye council for four years, said that another priority is to launch a statewide digital education campaign about the dangers of drugs.
Also on the evening's docket was a debate between NYS Assemblywoman Amy Paulin, a democrat representing District 88, and her opponent Anthony J. DeCintio, Jr. running on the Conservative line.
DeCintio did not show up for the debate, but Paulin was asked to make a few remarks.
"We, in the legislator do three things: constituent service, works on the budget, and pass laws. Starts with discussing laws: I have been ranked as one of the most effective lawmakers, in the top 3 percent, continually. I have passed 191 laws. They include making human trafficking a violent B felony, eliminating the statute of limitations on rape, making government more transparent, something that league supports heavily, by making sure that agendas and materials are in advance in the public's hands before the meeting. I have lengthened the orders of protection for battered women."
"As far as the budget goes, when I first arrived, knowing the importance of bringing home money, I coordinated an effort to help reduce property taxes by bringing in more education dollars and coordinated what we now call the suburban effort in a very bipartisan way. We work very hard as suburban legislators to make sure that our districts are protected."
"I am asking for your vote in November because I'd like to continue serving the people of my district," Paulin concluded.
The election will be held on Nov. 8, with the winners serving two-year terms.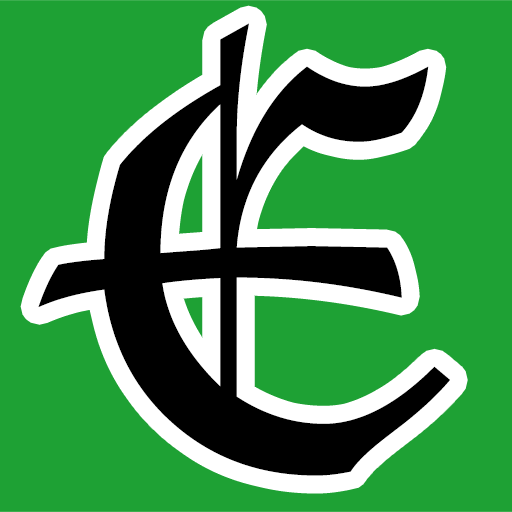 Examiner Media – Keeping you informed with professionally-reported local news, features, and sports coverage.