Hurricane Grill & Wings, Hartsdale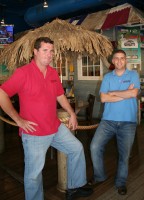 Hurricane Grill & Wings is best known for its flavorful wings and assortment of sauces, but there's a whole lot more to this restaurant chain than meets the eye as co-owners Dan Steele and Walter Henry pride themselves on creating an exciting sports bar atmosphere that all the family can enjoy.
The 5,400-square-foot eatery, located on Central Park Avenue in Hartsdale, is part of a nationwide franchise that was created in 1995 by Stamford native Chris Russo. The former line cook opened the first Hurricane Grill & Wings in Fort Pierce, Fl., based on a demand for chicken wings and accompanying sauces instead of the usual hamburgers and fish sandwiches that other restaurants were serving in the area.
Today, there are close to 50 restaurants throughout the country, with the Hartsdale one being the first to open in Westchester County. Four other franchises operate in Long Island and another one is set to open in Poughkeepsie in the near future.
The combination of sports bar and family fun is usually a tough concept to pull off, said Steele, who went into the venture with Henry and two other investors, Rob Tobias and Anthony Tomas. Three of the owners, including Steele, also serve as area developers for the brand.
"We were sold on the concept from the start," said Steele, adding that there's no other restaurant chain that has been able to capture such different demographics.
What was once a haven for male sports fans, however, has become an attractive venue for customers of all ages and gender. At Hurricane Grill & Wings, you'll find 18 TVs, but they're all placed appropriately so that no one is forced to watch a game if they don't want to, noted Steele. And there's also a section of the restaurant where customers can enjoy a nice meal without being disturbed by the noise of a television.
Parents don't have to worry about keeping their kids happy as the restaurant provides entertainment specifically geared toward their needs, like the balloon maker who comes every Tuesday and an arcade where kids can play games. On Tuesdays, children under 12 eat for free.
Each restaurant is designed with a casual tropical feel in mind. That includes sections of the seating area divided up by thick nautical rope, benches that resemble surf boards, digitized murals of tropical scenes by renowned artist Dan Macken, as well as tables with palm thatch overhead, adding to the island resort look.
Apart from the aesthetics, Hurricane Grill & Wings serves up a delicious array of great food that is popular with budget-conscious families. Its most popular items are the restaurant's signature wings, with over 30 sauces to choose from.
Every sauce on the menu belongs to a specific category that ranks them in terms of flavor, from mild to the very hot. For example, the category 1 sauces, also known as the "Calm Before the Storm," include the mild hurricane sauce, the sea salt & vinegar sauce and the mango BBQ sauce, among others, while the category 5 "Seek Shelter" includes the "Ridiculously Hot Hurricane Sauce," suitable only for hearty taste buds.
The menu, which is cooked fresh to order with high quality ingredients and zero trans fats, also includes a number of signature starters, including "Hurricane's World-Famous Garlic & Parmesan Fries," the "Wood-Smoked Fish Dip with Mahi-Mahi & Wahoo" and the "Fried Pickles with Cyclone Sauce."
Sides of homemade kettle chips, hurricane rice and hurricane slaw are also popular, as well as a variety of sandwiches, wraps and sliders, in addition to an assortment of "Fiesta Flavors" that include quesadillas, shrimp, fish tacos and more.
There's a wide variety of beers to be enjoyed at Hurricane Grill & Wings, too, including domestic beer, imports and a number of micro-brews such as Blue Point lager, Dogfish Go and Landshark.
In addition to the ambience and wide selection of eats available at the Hartsdale location, Steele and Walters are excited about their latest promotion, "NFL Madness." During any National Football League game, customers who spend $6 on an alcoholic beverage will be entitled to a free five-piece plate of boneless wings.
In addition, the restaurant has teamed up with Curry Acura of Scarsdale in the giveaway of a two-year, prepaid lease on a 2013 Acura ILX.  To enter, contestants must text NFLGAME1 to 49798 and upon receiving a return text message, contestants will be required to submit a customer receipt number to validate the entry. Since there is no purchase necessary to enter the competition, contestants can email info@hurricanewings.com or call 914-397-9464 to obtain a receipt number.
Hurricane Grill & Wings is also available for private Xbox parties. The private party room accommodates up to 50 people. Half-price appetizers and other specialties are available during Happy Hour, Monday through Friday, from 4 to 7 p.m. and again from 9 p.m. to closing, as well as on Saturdays, from 12 p.m. to 7 p.m.
Hurricane drink specials include the following: domestic pints, $2.25; import and craft beers, $4.50; half off wine; $5 specialty drinks and $3 well drinks. The restaurant also has a take-out and catering service.
Hurricane Grill & Wings is located at 149 South Central Park Avenue in Hartsdale. For more information, visit www.hurricanewings.com or call 914-397-9464.