Hunkering Down While Repairs Ongoing
We are part of The Trust Project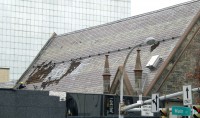 A message from the Mayor's office, City of White Plains
The City of White Plains Department of Public Works has been working around the clock and has cleared all trees from roadways that do not involve Con Edison wiring. The remaining approximately 70 City streets that are blocked due to downed trees and/or power lines are awaiting Con Edison crews to de-energize the lines and certify the safety of the site for our workmen before the waiting DPW crews can address those streets. The City DPW has dozens of crews waiting for such certification so that they can move in and immediately begin clearing.
Dry Ice – Dry ice will be distributed by Con Edison at the following locations today while supplies last: 200 Business Park Drive, Armonk (Across from IBM) & Yonkers Raceway
City of White Plains Emergency Shelter – The location of the City's emergency shelter is being moved from Post Road Elementary School to the Community Center, at 65 Mitchell Place in downtown White Plains. The new location will be operational by mid-day today. Meals will continue to be provided by the Salvation Army.
Cots and blankets will be provided at the shelter. However, residents should bring with them personal care items, medications and a flashlight. Residents may also want to bring a battery operated radio, books and/or magazines, non-perishable snacks and items to entertain children.
Extended Hours at the Library – The White Plains Public Library will offer extended hours to the public again today. The Library will be open from 10:00 a.m. until 9:00 p.m. Additional power strips will once again be available to residents to charge their electronic devices.
Parking – There is ample public parking available at the Lexington-Grove West (Galleria – Sears side) municipal parking lot for commuters who are taking Metro-North into New York City. If you are unable to park in the TransCenter garage, the Lexington-Grove lot is a good option and it is only 1 block from the train station.
Looking for something to do with the kids? The Ebersole Ice Rink is open! Public sessions will be held today and tomorrow from 10:00 a.m. – 2:00 p.m. and 3:00 p.m. – 5:00 p.m. There will be an additional public sessions on Friday from 8:00 p.m. -10:00 p.m. This weekend, Ebersole will be open for the regular public session schedule.
Hot Lunch @ the Senior Center – The City of White Plains Senior Center, located at 65 Mitchell Place, will be serving hot lunches through its Nutrition Program today and tomorrow. Reservations are required to participate in the Nutrition Program. Please call 422-1424 to make reservations.
Showers  – The following community facilities have generously opened their doors for White Plains residents without power to enjoy a hot shower. Please bring your own supplies, including towels, soap and shampoo. Also bring personal identification for registration and security purposes. Showers are available for those who need them at the following locations:
White Plains YMCA: 250 Mamaroneck Avenue. Hours: Mon-Fri 5:15 am – 10:00 pm, Sat 7:00 am – 6:00 pm, Sun 8:00 am – 4:00 pm
White Plains YWCA: 515 North Street. Hours: Mon-Sun 8:00 am – 12:00 noon
New York Sports Club:  City Center. Hours: Mon-Sun 5:00 am – 11:00 pm
Planet Fitness
33 South Broadway
Hours: Mon-Fri 5:00 am – 11:00 pm, Weekends 7:00 am – 7:00 pm