Hundreds Pay Tribute to RBG at White Plains Vigil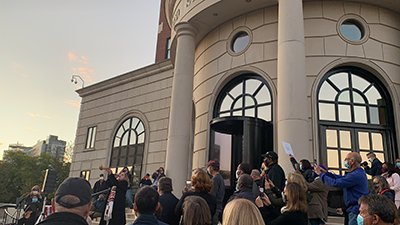 By Lindsay Emery
Hundreds gathered early Sunday evening outside the federal courthouse in White Plains for a vigil to commemorate the life and legacy of Supreme Court Associate Justice Ruth Bader Ginsburg.
Indivisible Westchester organized the event shortly after Ginsburg's death on Friday, and brought clergy members from across the county to mourn. They also encouraged citizens to mobilize and vote in the upcoming presidential election.
Rabbi Leora Frankel from the Larchmont Temple, explained the importance of someone dying on a High Holy day in the Jewish faith.
"And there is a tradition, in fact, that in Judaism, that only the very righteous die on the Sabbath and the most, most, most righteous die on the High Holy days," Frankel said. "How chilling, how perfect that we imagine as we were ringing in our New Year, as our prayers were ascending to the gates of heaven, so too, was Justice Ginsburg's soul."
Frankel ended her remarks by blowing the shofar and encouraging people to think of it as a call to action to continue to live Ginsburg's legacy.
Other speakers, including Fr. Gawain De Leeuw of St. Bartholomew's Episcopal Church in White Plains, who served on the local board of Planned Parenthood for eight years, called Ginsburg their patron saint.
"Every time a new Supreme Court justice has been appointed over the last three-and-a-half years, my heart has died a little bit," he said. "But each time, I could see the Notorious RBG there saying what needed to be said."
Rev. Lee Trollinger from the Calvary Baptist Church drew a parallel between the Statue of Liberty and Ginsburg.
"And at one time in the history of the United States, those who came from foreign lands, would take a look at that grand lady in the sea, in the harbor, and knew that they were on safe ground because now they were in the United States of America," he said. "When President Clinton, designed by God's will, to select a grand lady like Justice Ginsburg, New York got another grand lady – not to be in a harbor, but to be in the United States Supreme Court."
Trollinger and others discussed various gender and social rights cases that Ginsburg had argued in front of the court, as well as cases decided when she was on the bench. Overall, Ginsburg tried to ensure that the Supreme Court did what was right for the people of the United States, said Rev. Stephen Pogue of the Greater Centennial A.M.E. Zion Church in Mount Vernon.
"At 5-foot-1, she was a giant," Pogue said. "At 5-foot-1, she broke glass ceilings. At 5-foot-1, she knocked down doors to make sure each of us had the right as United States citizens and we cannot and we shall not allow her legacy to go down without a fight."
At the end of the vigil, Cantor Melanie Cooperman from the Community Synagogue of Rye, led the audience in the Mourner's Kaddish for Ginsburg – something that Ginsburg was unable to participate in when her own mother passed away in 1950.
"And while RBG was unable to say Kaddish for her mother, I believe she would take great satisfaction in knowing that we are gathered here together today – men and women, Jews and non-Jews alike – to do just that for her," Cooperman said.
The night ended with live music from violinist Deborah Wong and cellist Chris Finkel.
Residents and representatives of organizations from across the county came and participated in the vigil. Robin Price and Jackie Powell traveled from Irvington to pay their respects to Ginsburg.
"I mean she was one of my heroines," Price said. "I actually met her many, many years ago when I was in law school."
Powell described a hopelessness that she believes can be remedied by coming together and celebrating Ginsburg's life.
"When I heard about RBG's death, I immediately felt really hopeless," Powell said. "Which I'm sure a lot of people here do, and did, and my reason to be here is so that we can all sort of be together in these emotions and these feelings and to sort of feel like we're not alone and to find the strength to get out of the hopelessness."