Hudson Valley Steakhouse, Yorktown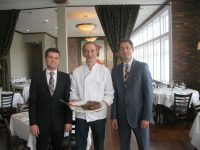 Yorktown residents Klevis Tana, his brother-in-law, Elvis Cutra, and Tomassino (Timmy) Prengjoni have decades of experience in the restraint industry and in April of this year they brought their expertise to Yorktown by opening Spark Valley Steakhouse.
The co-owners are continuing to specialize in steaks and seafood dishes but decided recently to change the name of their restaurant to Hudson Valley Steakhouse. "We felt that Hudson Valley best suited us," Tana said last week.
Tana said the trio decided to open a restaurant in Yorktown because "we've raised our families here." Tana said he and Cutra were waiters at "some of the best restaurants in New York City" including the Rainbow Room in Rockefeller Center.
Tana and Cutra moved to the United States from their native land of Albania but did not meet each other until they were living in the United States. "The Constitution of America was one of the most beautiful things," Cutra said. "We came here in pursuit of happiness and what we realized was we cane her to express happiness."
Tana said that he and his partners decided on the steakhouse concept "because that was the thing that was missing the most in Westchester." Other local restaurants did not have the quality and integrity that they wanted to bring to their restaurant, he said.
Specialties of the house include their aged steaks. The aging process takes from 28 to 31 days to complete, Tana noted. Other specialties are their lobster and fish dishes that are shipped from many locations, including Alaska and Hawaii Tana said he and his partners seek "who has the right produce at the right price" to maintain stable prices and standards at the restaurant.
Prengjoni, who is the executive chef, said he has been working in restaurants for decades, beginning as a dishwasher at the age of 12. Aside from its seafood and steak specialties, the restaurant also offers Italian dishes, he said.
Prengjoni said his nieces married his two fellow co-owners.
The large wine selection specializes in wine from California wines, Tana said, adding the restaurant also offers Italian wines. The staff suggests the appropriate wine pairings for each entrée, he said.
Tana and Cutra personally constructed the bar out of black walnut wood they purchased in Rochester, NY. They bought about 45,000 pounds of fallen trees, Tana noted. "We enjoy carpentry," Cutra said. "Our grandparents were craftsmen and farmers."
"Business has been great, better than what we expected," Tana said. An important value for the owners is "doing the right thing," he said.
Tana said one of the main goals of the owners is to make their restaurant "a destination place" for diners who live in the Hudson Valley.
Hudson Valley Steakhouse is located at 3360 Old Crompond Rd. in Yorktown. For more information, call 914-930-8688 or send an e-mail to info@hudsonvalleysteakhouse.com.