Hudson Valley Hospital Center to Close its Methadone Service
We are part of The Trust Project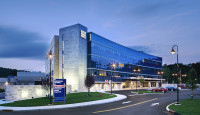 Hudson Valley Hospital Center has received state approval to close the doors of its methadone clinic.
In a February 1 letter from New York State Office of Alcohol and Substance Abuse, the hospital received approval to shut down the program it has run since 1979 and to "cease admissions upon receipt of the letter to minimize the number of patient transfers in the months leading up to the last date of service."
"This is nothing to celebrate as this was not our plan to halt services. Our plan was to keep the services going for what is a much needed service for this community," said John C. Federspiel, President, Hudson Valley Hospital Center. "We proudly operated it for over 30 years, and it took five years to find a qualified partner but only one year for the City of Peekskill to put a halt to the service. It is really a shame that the City has shown this level of bias towards these patients."
Last summer, Hudson Valley Hospital Center entered into an agreement with the Renaissance Project to take over the management of its outpatient methadone clinic. Currently located in trailers in the rear of the hospital, the clinic treats about 230 multi-addicted patients annually with nine employees. Renaissance located a site for the service in an industrial park off Highland Avenue.
Renaissance received planning board approval to move forward with the relocation of the service. but the City Council sued its own planning board to stop the move. The hospital had hoped by now to transfer management of the service and was required to develop a closure plan which it submitted. The closure notification comes as part of that plan.
The hospital is working to find positions for the nine employees who work in the service as well as locations for care for the patients. There are five other treatment programs in Westchester and one in Newburgh. According to the closure plan, the last day of service is anticipated to be July 6.
Despite the great quality of the service as demonstrated by third party surveyors such as the Joint Commission, Department of Health and OASAS, reimbursement has not nearly covered the cost of the program for many years. The hospital did request enhanced funds to continue to cover operational costs but was denied.
Federspiel said the hospital continues to expand its health services on the hospital campus and the competition for on-site space is very strong.
The Renaissance Project was recommended to the hospital by Westchester County officials. The not for profit organization is fully licensed and its mission is the professional treatment of those affected by substance abuse.