How to Make Yourself Whole Again After Storm Damage
We are part of The Trust Project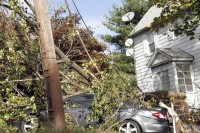 During the onslaught of Hurricane Sandy insurance carriers were making determinations about coverage based on Sandy's storm status. In some instances, when Sandy was downgraded to a tropical storm, hurricane coverage was no longer an option. In fact New York State Governor Andrew Cuomo issued a press release that storm Sandy would not be categorized as a hurricane for purposes of hurricane deductibles.
Linda Rey, a partner at Rey Insurance Agency, based in Sleepy Hollow, spoke with The White Plains Examiner to give some much needed advice to homeowners struggling through Sandy's aftermath. "In the case that the hurricane deductible is not applicable, the 'all other perils deductible' does apply," Rey said.
Since Westchester has been declared a disaster area and homeowners can apply to FEMA for aid, Rey suggests they do. "I strongly recommend for anyone to review what is or will be made available to them by way of funding to make themselves whole again. Also, keep all your receipts so you can deduct any expenses that will be allowable for tax purposes," Rey advises.
She also suggests that if you do have insurance to contact your insurance carrier first.  "File the claim and keep the adjuster and claims representative contact information handy. FEMA may provide some relief but it could be slower than using your insurance coverage first," she says.
Damage as a result of a downed tree due to windstorm is covered under homeowner's insurance. Water is not covered unless a sump pump failed due to a power outage or if a pipe burst for some reason. If your car was damaged because a tree fell on it, that is covered by your automotive insurance if the coverage is comprehensive.
"Photos are a must. Having an estimate on how much the work would cost is also helpful and can expedite the process. I caution however, as I'm sensitive to contractors and their businesses, do not waste their time with leveraging estimates to try to discount contractor rates. Contractors need to be paid for their time. I've seen honest, quality craftsman spin their wheels during a time of crisis. Find someone trustworthy and reliable, and respect their time," Rey advises.
Because of the unprecedented nature of Sandy, Rey believes the insurance companies are "scrambling as we speak" to work as quickly as possible. The claims process may be slower than usual because of the volume of claims. Keep this in mind, she says. "Patience with knowing that all property can be repaired may help to alleviate stress."
Insurance has 'Loss of Use' coverage to provide reimbursement for people who need to live elsewhere if they are unable to reside in their homes while repairs are being done. If photos of contents/furnishings were taken, you may want to retrieve those if you need to replace contents in your home as a result of damage. Insurance companies do not write blank checks typically and most property reimbursements need to substantiated," Rey further explains.
On a much smaller scale, FEMA may provide coverage for up to $300 worth of food lost through spoilage. As far as approaching your insurance carrier on spoilage, Rey claims there are policies that do provide a small amount towards spoilage "However, she strongly advises,  "if this is the only hardship you've suffered, please do not file a claim. Every claim matters on your homeowner's insurance policy. This is more of a nuisance claim and costs more to process than the actual check that is written. The reimbursement will not be worth having this on the record. Any claim that is filed should be as a result of a catastrophic nature."