Housing Expo Held in White Plains Saturday
We are part of The Trust Project
The following is a press release from the Westchester County Board of Legislators:
Seminars for homebuyers and opportunities to meet with not-for profit counselors, realtors, lenders and other housing professionals regarding home ownership are some of the top reasons for attending the Fair and Affordable Housing Expo 2012, which will take place Saturday, March 10 at the Westchester County Center in White Plains from 10 a.m. to 3 p.m. Admission is free.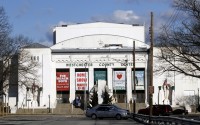 The Fair and Affordable Housing Expo 2012 is co-sponsored by Westchester County, CitiBank, Hudson Gateway Association of Realtors and Westchester Interfaith Housing Corporation.
"This event gives potential homeowners and renters a chance to gather as much information as possible before they make major decisions that can impact their lives in many ways," said Legislator Catherine Borgia (D-Ossining), chair of the Westchester County Board of Legislators' Government Operations Committee.
Westchester County will be hosting a noon workshop tomorrow at the Expo on Fair and Affordable Housing that will focus on the Westchester County Housing Settlement and on how to qualify for one of the housing units the County is building as part of the Settlement. Westchester County now operates a webpage called "Homeseeker Online" (www.homes.westchestergov.com/homeseeker-opportunities) where people can review the available properties for purchase and rent that are part of the Settlement.
The Westchester County Center is located at 198 Central Avenue in White Plains.