Hot Chocolate is a Favorite Drink for City Limits' Chef to Prepare
We are part of The Trust Project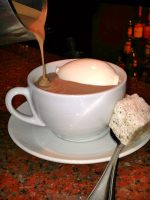 A favorite beverage of Executive Chef Juan Rodriguez, especially this time of year, is City Limits Diner's hot chocolate.
Rodriguez, a native of El Salvador, joined Livanos Restaurant in White Plains in 1985 and was a member of the Livanos team that founded Oceana in Manhattan in 1992. He returned to Livanos in 1994 when it became City Limits Diner.
Below are the recipe and instructions for Rodriquez's hot chocolate and its house-made marshmallow.
Marshmallow ingredients
2 tablespoons of canola oil
One-half cup of cold water
4½ tablespoons of unflavored powdered gelatin
¾ cup of 10x confectioner's sugar
¾ cup of granulated sugar
¾ cup of light corn syrup
1/8 tablespoon of fine salt
1 vanilla bean (halved, seeds scraped)  
Marshmallow directions
Line a cake or sheet pan (about 9 inches by 9 inches) with parchment paper. Cut another piece of parchment paper with the same dimensions as the pan. Brush both pieces of paper with oil.
Brush/coat the utensils with oil. Combine cold water with the gelatin, stir and allow to soften. Place the rest of the ingredients in a stainless-steel sauce pan, wiping the sides of the pot clean with a little water so there are no sugar crystals sticking to the sides. Heat on high until the mixture reaches 245 degrees.
While the sugar is cooking, heat the gelatin to dissolve it and pour into the bowl of an electric kitchen mixer with a whip attachment. When the sugar comes to temperature, slowly and carefully pour down the side of the bowl while mixing at a moderately high speed.
Continue to whip until the mixture achieves maximum volume and is light and fluffy. Immediately pour the mix into the prepared pan and spread evenly with a metal spatula.
Cover with parchment paper oil side down, then set aside to cool and set for several hours. Once firm, peel off the parchment paper and run the knife around the sides to loosen.
Sift half of the 10x sugar over the coated pan and then peel off the other layer of paper. Sift the top with the remaining confectioner's sugar.
Cut into squares. Clean the knife and/or brush with more oil if it becomes sticky. Store at room temperature.
Hot chocolate ingredients
8 ounces of heavy cream
5 ounces of milk
1 tablespoon of sugar
2.5 ounces of Valrhona chocolate
Half of a small cinnamon stick
One-quarter vanilla bean  
Hot chocolate directions
Bring all of the ingredients to a simmer except the chocolate. Pour the hot mixture over the chocolate and mix with a whip. Strain into two warmed mugs, top with marshmallows and serve immediately.
City Limits Diner opens daily at 7:30 a.m. It is located at 200 Central Ave. in White Plains. Parking is free. For more information, call 914-686-9000.