Horseback Riding Provides Disabled Children Important Therapy
We are part of The Trust Project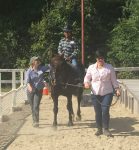 The Adaptive Sports Academy at the Hospital for Special Surgery (HSS) gave their young patients with cerebral palsy and other disabilities a chance to do something different Monday morning.
More than 15 pediatric patients from the Manhattan-based hospital spent the morning horseback riding at Endeavor Therapeutic Horsemanship in Mount Kisco with the help of Endeavor's trained instructors, learning movements, feeding the horses and brushing them in the stables.
"It's a wonderful opportunity for the kids to socialize with other patients and accomplish things they didn't realize they could achieve," said Peyton Katz, family care coordinator at HSS. "Some kids are not sure at first how well they'll do, but they always exceed their own expectations."
Sisters Alexandria and Maya Vega, both eight years old, had fun and felt accomplished after their half-hour session on a horse, excited to ride again.
"I felt like a cowgirl," Alexandria Vega said.
With many of the patients, between the ages of 5 and 21, using walkers, crutches or in wheelchairs, Christina Pierozzi, an occupational therapist in the Pediatric Rehabilitation Department at HSS, said therapeutic riding improves posture, muscle tone and gives the children a sense of what normal walking feels like.
"Participating in a therapeutic riding program can help overall muscle balance, which improves standing and walking. It's also fun, different and motivating," Pierozzi said.
Speech therapist Liz Gerosa explained that each step the horse takes stimulates movement and strengthens the patient's core. With the children sitting in proper alignment on the horse, the movements have the ability to improve respiration, phonation, articulation and resonance, she explained.
For the last year, the academy has organized trips and recreational experiences for pediatric patients, including surfing, rock climbing and skiing in order to build the youngsters' self-confidence, encourage independence and increase physical activity and mobility. Trips are offered without cost with help from sponsors and donors.
Throughout the morning, parents gathered around to take videos and pictures of their children riding, hoping the event will remind them that they aren't limited in what they can do in life.
Parent Marc Wollemborg, whose 10-year-old daughter has spina bifida, said HSS's therapeutic outings give his daughter confidence and strengthens her to undertake her day-to-day activities.
Parent Laura Avriza added that watching her daughter on the back of a horse gave her hope for the future.
"Sometimes as a parent you know that they are able to do certain things, but she's in a place where sometimes they see their peers doing so many things and they limit themselves," Avriza said. "This gives her an opportunity to do things that she might be thinking she can't, it opens her eyes and makes her more receptive to doing things she thinks she can't do."