News Based on facts, either observed and verified directly by the reporter, or reported and verified from knowledgeable sources.
We are part of The Trust Project
A conversation with former Westchester resident Rishi Gandhi, whose award-winning short film 'Mater Mortis' brings a fresh — and very personal — perspective to the zombie genre

Good morning! Today is Friday, February 25, and you are reading today's section of Examiner+, a digital newsmagazine serving Westchester, Putnam, and the surrounding Hudson Valley.
Need to subscribe — or upgrade your Examiner+ subscription to enjoy full access to all of our premium digital content? Details here.
---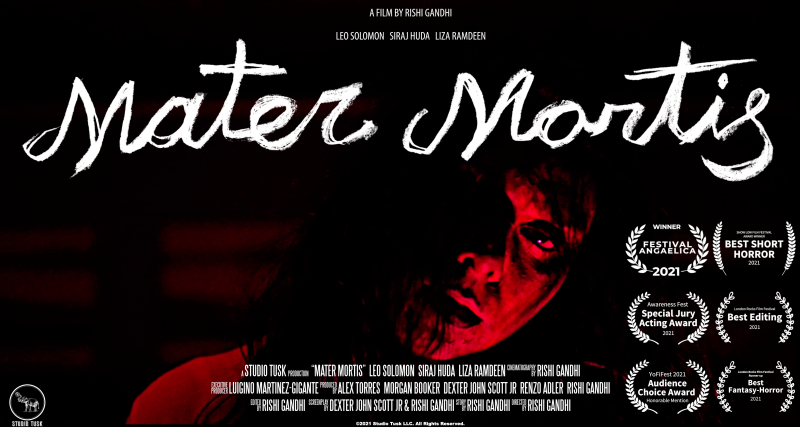 In 2014, I found myself in a writing workshop in Dobbs Ferry with Rishi Gandhi. I was working on a historical novel; he was working on a short story called "A Case of Mater Mortis," about a young man struggling to come to terms with his mother's chronic health condition as a zombie. The story was very edgy and dark, and as he admitted, grounded in his family's own struggles with his mother's bipolar disorder.
Rishi's day job was as a video editor and colorist as well as freelance cinematographer.  He was smart, funny, and very intense.  He made us laugh and he made us think.  After the workshop dissolved, we exchanged emails and went our separate ways.
 Seven years later, much to my delight, Rishi sent me an email about his new short horror film, Mater Mortis, based on the short story I'd read years before. He co-wrote, directed, shot, and edited the film. It has screened at film festivals from Yonkers to Mumbai and won a handful of awards, including Best Short Horror at the Show Low Festival in Arizona.
Mater Mortis is told from the point of view of a young South Asian man named Rajan (played by Leo Solomon). He is mourning the loss of his mother Aparna (Liza Ramdeen) to "The Rot," a disease that turns its victims into the living dead, and grappling with how to talk about it with his father Jyotin (Siraj Huda).
As Rishi describes it, "The film explores the difficulty of first-generation Indian Americans as they struggle to communicate with one another under the strain of a family illness." 
I got back in touch with Rishi, now in his mid-30s, to find out more. And to congratulate him on the fact that at least one of us had seen a  project through to completion.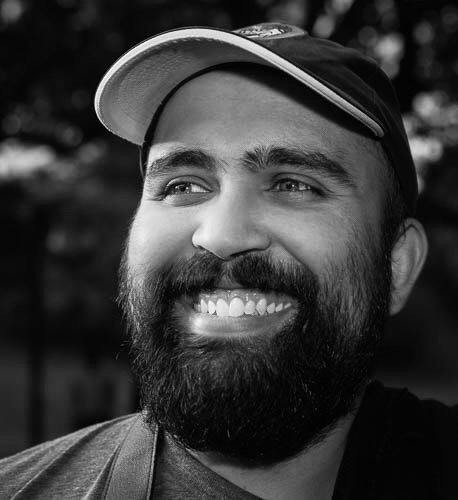 Examiner+: Were you always intending to make this short story into a film?
Gandhi: Somewhere in the back of my head I thought I'd turn that story into something else. But it felt so raw for me when I initially wrote it, so I shelved it for years before turning it into a film.
I had a collaborator at the time named Dexter John Scott, and we were looking to do a short together. I said, 'Hey, I have this old story, help me turn it into a screenplay.' He's a good screenwriter, but we had a lot of logistics to figure out to make this film happen. To make it all doable for me, I delegated part of the writing responsibilities to him to bang out a screenplay that would be really great.
E+: Had you ever made a film before?
Gandhi: I've been making short documentaries since 2009; my very first film was actually a short zombie movie that I made when I was at Fordham College. I was a political science major.
E+: The film centers around an immigrant family. How does this mirror your own life?
Gandhi: My dad was born in Tanzania. I believe he emigrated to the UK in the late '60s or early '70s. My mother was born in Mumbai and grew up in Singapore. My dad married my mom and moved her to the UK in the early '80s. I was born in London.
My dad got an accounting job in West Africa, so we moved out to Cote d'Ivoire, to the city of Abidjan. I lived there till age 13 when my mom and I moved to the U.S. to Dobbs Ferry so I could get my citizenship. My dad had a good job in Africa and it was easier for him to work there and support us from afar. When I was a freshman in high school shortly after 9/11, my mom was displaying a lot of really extreme psychological symptoms. It turned out she was bipolar. It wasn't until we'd seen doctors that I understood, 'Oh, some of the weird shit my mother's been doing has been going on my entire life.'
My dad crunched the numbers, and it was a lot cheaper for him to take her back home to Africa to get affordable health care. So from high school into college, I was basically on my own.
E+: It's hard enough to adjust to high school without this heavy emotional burden….
Gandhi: I had wonderful and excellent mentors at The Masters School in Dobbs Ferry, especially once I became a boarding student. The first year was not wonderful for me; my mother had just gotten sick and I had a huge transition to living without my parents in a school environment.
When you're a child you don't necessarily recognize the stuff you're going through, you tend to compartmentalize just to go through your day. It took a lot of therapy to realize I did that as a kid.
E+: The film is different from the short story — less brutal.
Gandhi: In the original short story, Rajan offs his mother. I wrote that when I was a much younger man, and I was very angry at my circumstances and had seen my mother at her absolute worst — when she was very abusive and monstrous toward me or when she was so doped up on her medications that she was literally not there. There was no light behind her eyes. With ten years between now and then and a lot of perspective and therapy, the film ends very differently.
E+: In Mater Mortis, "The Rot" has become normalized. It's the polar opposite of The Walking Dead, where instead of conflict and death there's empathy and concern.  
Gandhi: In the traditional American style of survivalist storytelling, it's like, 'Oh now you're a monster, I must be sure you're dead' sort of thing. Well, these monsters are our neighbors, our family. We take care of them to the best of our ability because we're a sane, civilized society. Instead of, 'Let's leave them out to rot,' literally. That's why in this world people that are afflicted with this "rot," as it's called, are taken care of.
E+: "The Rot" is a metaphor, right?
Gandhi: Yeah, it can be a metaphor for mental illness; it can be a metaphor broadly for any illness. It takes place in the U.S., and we live in a country that is run by these giant insurance companies that are basically scamming people out of money just to get access to health care. But imagine a world where we have a functioning health care system, and if there is a zombie apocalypse, that functioning healthcare system figures out a way where we don't have to arm ourselves to the teeth to kill zombies. It figures out ways to take care of these people.
E+: Where is your mom now?
Gandhi: She lives in India near her family, as part of a retirement community. We talk weekly. My dad died in 2016 of lung cancer.
E+: For all the aspiring filmmakers out there, how did you get the crew together?
Gandhi: I met my lead producer Alex Torres at the Yonkers Film Festival two years ago. We collaborated on a couple of short pieces together and eventually, I was like, 'I want to direct my first narrative short since college.' I reached out to him. He read an earlier draft of the screenplay; he loved it, we got him on board. With him being the logistical heart of the operation, he helped envision how we would get everything we needed to get things done, like crowdsourcing, securing locations, getting the right permits.  We did everything above board and properly…. But it's really a grind being a filmmaker; it's not like an overnight success story.
E+: How did you fund the project?
Gandhi: We crowd-funded this through a website called Seed & Spark, which is built around independent filmmaking. I put about three or four thousand dollars of my own money into it. In total, the film cost like 13 or 14 grand. And most of the money went toward paying everybody that worked on the film…. If I'd had $100,000 to make this short, I would have made sure people got paid even more because a lot of labor went into the short, and I think it shows.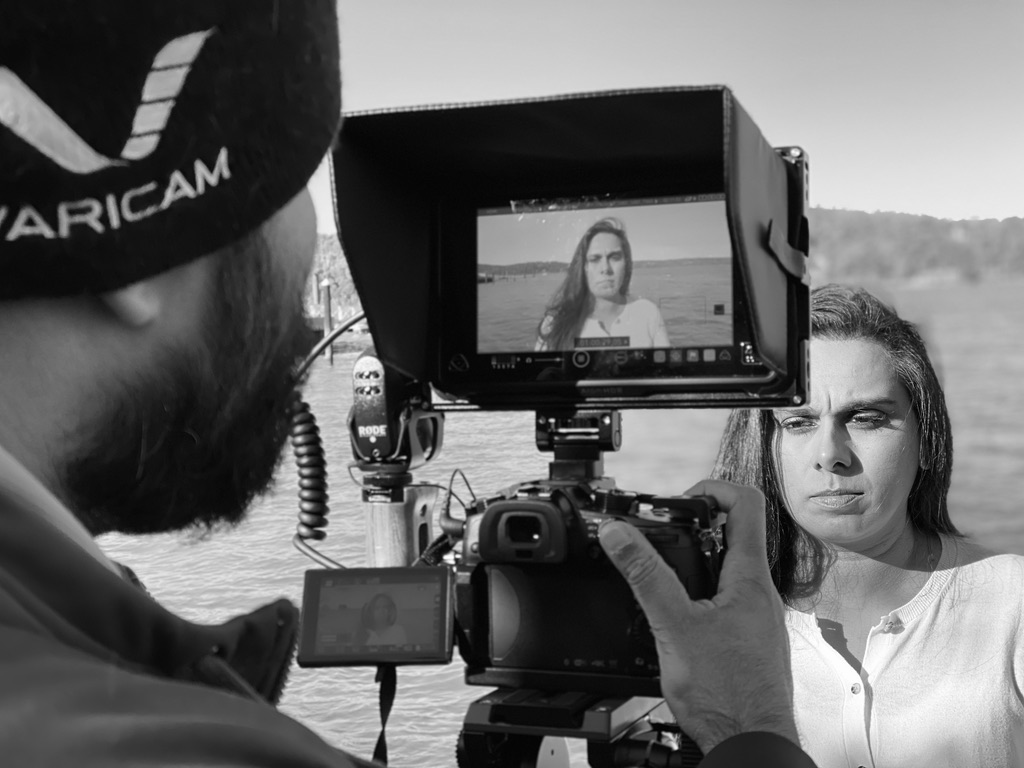 E+: It looks expensive. You shot the scenes around Westchester; it opens with the Hudson River.
Gandhi: We shot on the Dobbs Ferry riverfront. The opening scene in particular has a lot of meaning for me. Living in a town by a body of water is always really important to me; in West Africa, we lived by the ocean. In the film, he flashes back to happier times, and it's always by a body of water. But within the context of those flashbacks, the happier, better times are always kind of tinged with sadness or regret.
My old apartment in Dobbs Ferry was used for the main character's apartment in the beginning, also the street that I lived on at the time.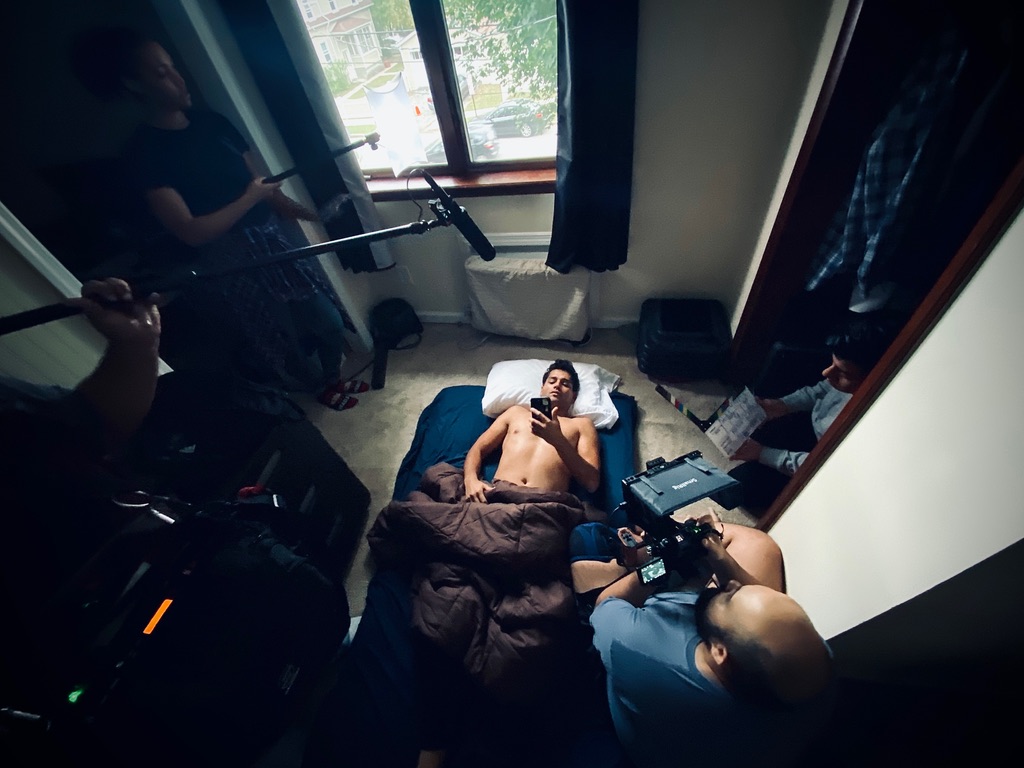 E+: I really enjoyed the lunch scene, from the framing to the morbid humor behind it….
Gandhi: We shot that at Ramenesque in Peekskill. Alex knew the owner and got us that location.
E+: It's one thing to write a short story; it's another to bring it to life.  
Gandhi: Once you're working with actors it's pretty neat because you get an opportunity to see these people bring elements to the story you could not have brought on your own. It's the same working with a writing partner, it's the same thing working with a sound designer and post-production. For this film, I did my own color and I did my own cinematography and editing, but getting people that have those skill sets can totally elevate a piece. This is why filmmaking is a team sport.
E+: How has your international background informed your filmmaking?
Gandhi: Growing up in West Africa, I had the chance to see stuff on TV like really deep Iranian films, Chinese films like Raise the Red Lantern. There's so much we're missing out on culturally as Americans with the current media landscape, where everyone's trying to be like Disney. I love Ted Lasso but 90 percent of the stuff we consume can't be comfort food. There's stuff out there that can give us another perspective, that can educate us without realizing we're being educated. That can open our minds to different experiences and to different cultures.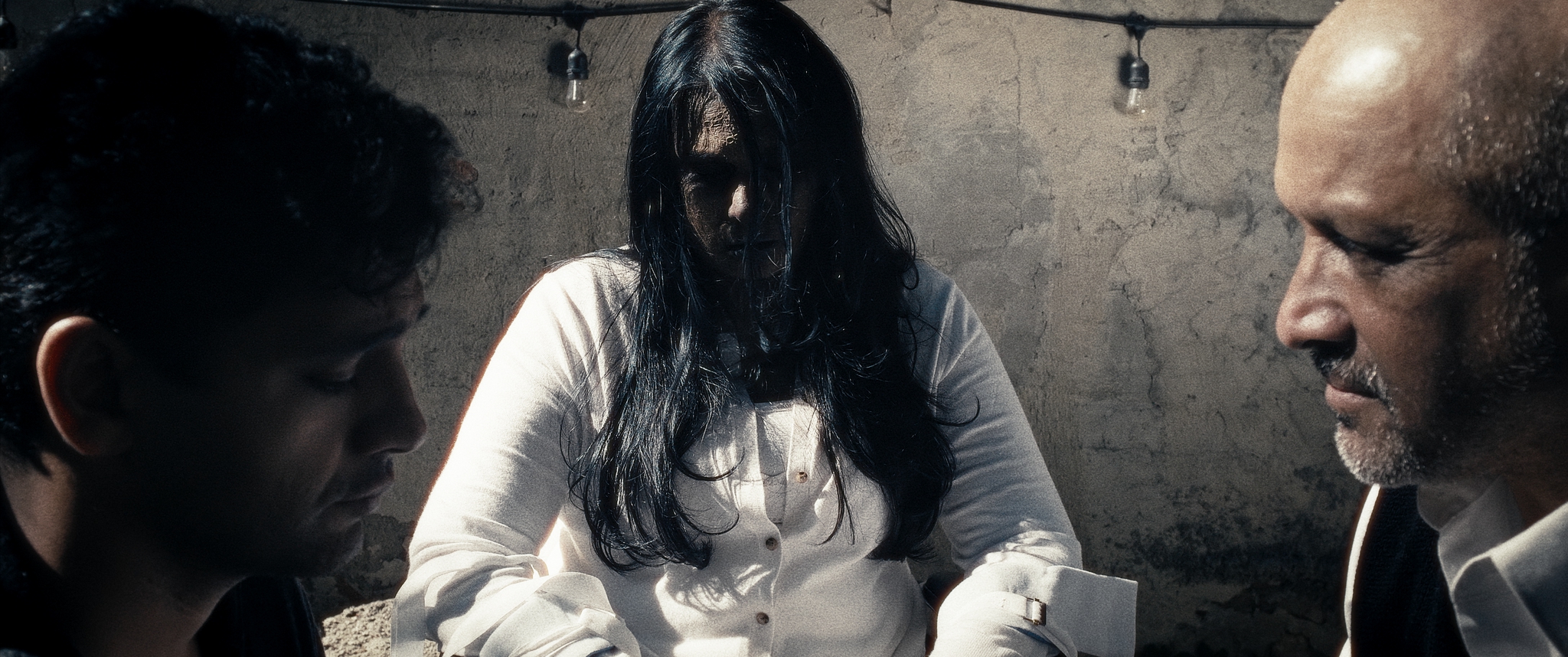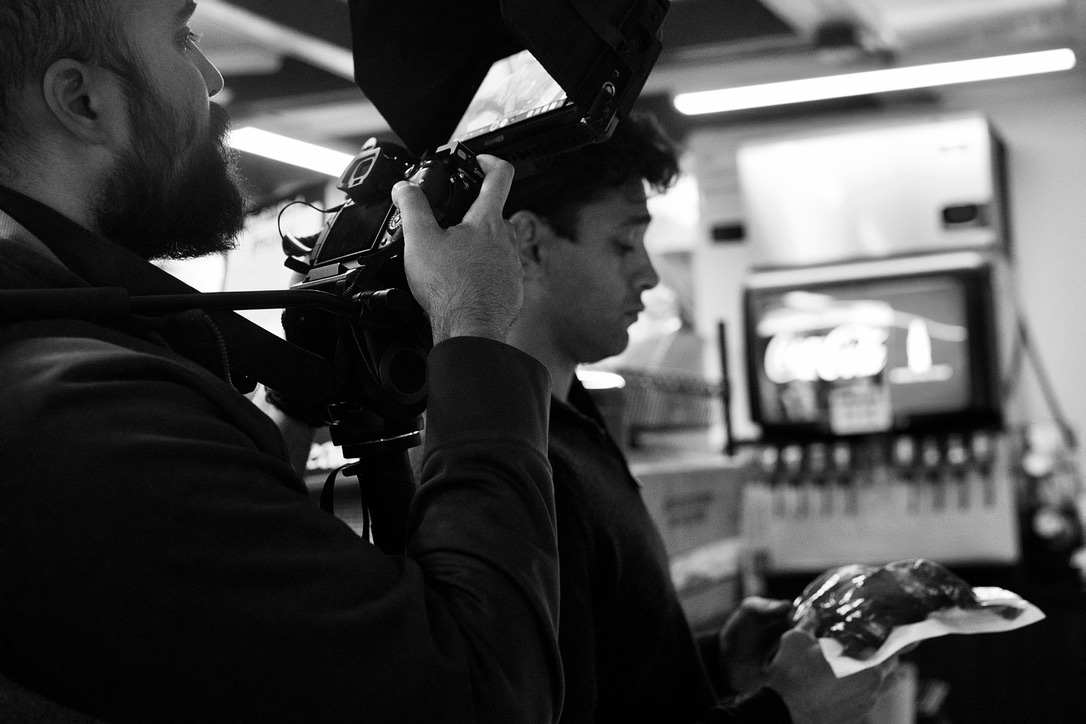 E+: Your lead, Leo Solomon, is amazing as Rajan. The first two minutes are about his grief; you're immersed in it. His face is so expressive.
Gandhi: Leo was a working actor [Rahim on HBO's Veep] getting his graduate degree in acting. He usually doesn't take short films but he read the script and thought it was cool so he joined us. Most of his films he never gets to see, and when they do come out, they're usually not good. We went to the Awareness Festival in Los Angeles, which focuses on mental health. I was super nervous; I didn't know if he was going to like it. He was blown away. It was such a relief! He won the acting award.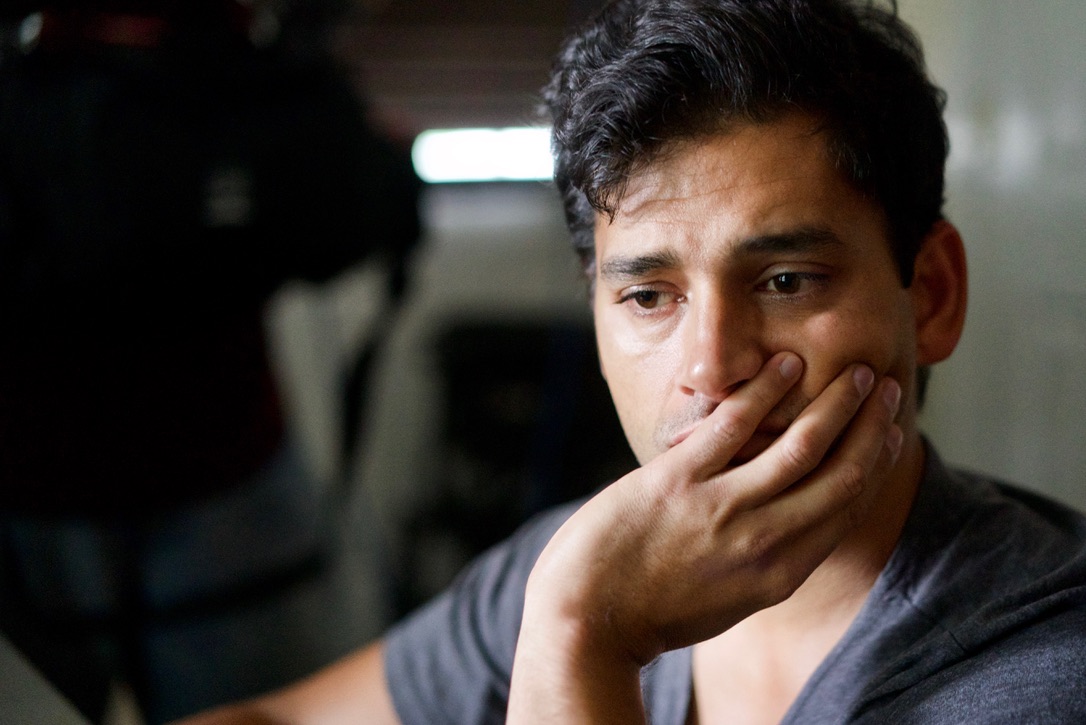 E+: He's always washing his hands in the film. Was that before COVID? It's prescient…
Gandhi: It was shot before COVID. That was a means to show the trauma surrounding his mother's change. It's a trauma response whenever he's stressed out.
E+: What's next for you?
Gandhi: I'm probably going to direct a very different type of short next, in collaboration with a fellow writer. And I'm working slowly on two feature film screenplays, including an expanded version of the Mater Mortis short. It's a ways off from being done, but that's the direction I'm headed in.
To see a trailer for Mater Mortis and a list of upcoming film festival screenings, go to matermortis.com or rishigandhi.com.
---
Dana White is a freelance writer based in Ossining, where she is a Village Trustee and still trying to finish the novel she was working on when she met Rishi Gandhi in 2014. She appreciates his support for her work.
---
We hope you've enjoyed today's section of Examiner+. What did you think? We love honest feedback. Tell us: examinerplus@theexaminernews.com
---
.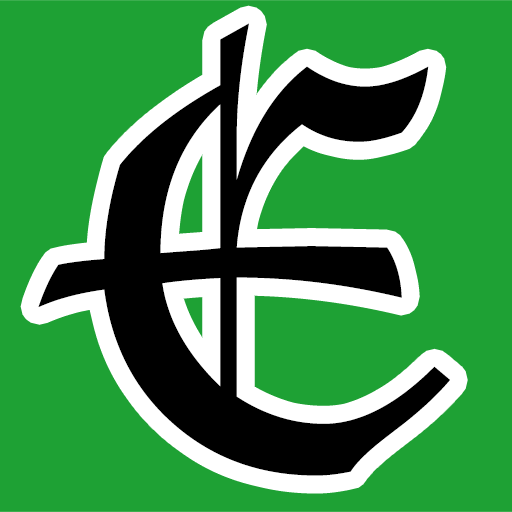 Examiner Media – Keeping you informed with professionally-reported local news, features, and sports coverage.