Homework Overload: Balancing Education with Sanity
Opinion Advocates for ideas and draws conclusions based on the author/producer's interpretation of facts and data.
We are part of The Trust Project
The Kids are Not All Right

I went into this reporting process loaded for bear. The target of my ire was homework – especially for high school students – and what seems to be the preposterous volume of after school work thrust upon local teens.
The status quo struck me as sending an inherently contradictory message.
On the one hand, we tell our kids to eat right, sleep right, exercise, socialize, engage with after school interests and prioritize mental health.
On the other hand, we tell them to suck it up and figure out a way to get all of their work done at night, after, say, 12 hours of classroom learning, clubs and sports or perhaps a part-time job.
I'm no math whiz but the numbers just don't add up on fulfilling all those commitments with time leftover to also eat well, sleep well and generally unwind.
Something feels amiss.
But, after some reporting and research, along with a desire to avoid confirmation bias, I will say the issue does appear to be far more complicated than my initial gut suggested, even if my bottom line hasn't changed.
At the Alter 
One of the most thoughtful people in local education is former Pleasantville schools superintendent Mary Fox-Alter, currently a Manhattanville College assistant director for a doctoral program in educational leadership.
I went to Fox-Alter searching for easy answers, but she emphasized how there are no cookie-cutter policy solutions, and she explained why it's so critical to define the terms the right way.
Not all homework is created equal, she noted in a phone interview last week. (To give a general sense of how complicated it is to even establish a starting point premise for discussion and policy prescriptions, Fox-Alter reminded me how not all students have a traditional "home" where they do homework.)
Are the after school scholastic tasks just busywork or are they designed to genuinely enhance learning?
Are we talking about high achievers working all day Sunday because they are passionate about learning and competing in a healthy fashion or because they're following strict demands from teachers and/or just gunning for a higher grade point average?
Problems created by noxious levels of college admission obsession are relevant here too, at least in my view.
Educators need to focus on student understanding and skill development when assigning homework, Fox-Alter stressed.
She also points out the many variables involved; the effectiveness of homework can be influenced by factors such as culture, individual family and student needs and the learning environment. Policy should be crafted within the context of broader student wellness and readiness.
"It should be customized," said Fox-Alter, Pleasantville's superintendent for 11 years through 2021, who now also serves as a state monitor for the East Ramapo Central School District. "You want to stop grading homework; however, you want to maintain accountability. You want to make sure that homework focuses on learning. And when kids have diverse needs or social emotional needs, there should be a conversation between parents and between teachers and school districts."
'Solidify What We've Learned'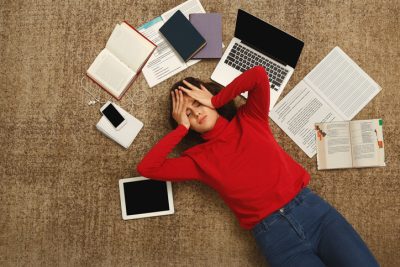 In fact, when I first decided to lambaste excessive homework in this space, I wrongly assumed that almost any local student I contacted would tell me they shared my general view.
I've known Fox Lane High School sophomore Zach Cohen, 16, since he was a little boy. A longtime friend of my older daughter, Zach has always been a particularly insightful kid. Even though I knew he was a standout student, I figured he'd gripe about workload.
"In terms of homework as a concept, I do think it's necessary for students just to solidify what we've learned and time management as well," Cohen told me in a phone interview last week. "I mean, I would be a much worse procrastinator than I am now if I hadn't learned how to get homework done in general."
Some nights are a breeze while other evenings are punishing.
Zach has a passion for science. His work in the Fox Lane science research program is the type of at-home learning he'd pursue whether it was "homework" or not.
"I'll have a few weeks where I have no homework at all, and I'll just go home and do what I want," he said. "And then there will be a few weeks where I'm working the entire day on homework. And I feel like some of that comes down to procrastination, but also, I feel like it could also be something to do with the classes, if that makes sense."
Granted, course selection and academic level come into play in this conversation.
However, shouldn't students be protected to some degree from themselves and/or from potentially overbearing parents?
And while I spoke to one of the few students in the "pro-homework" camp, even Zach, with his passion for learning, acknowledged issues with some of the volume.
"Right now, because of all the AP stuff, I do feel like I am getting an unreasonable amount of homework," Zach conceded. "I have to do a practice AP exam within the course of a couple of days. And that's like three hours over the course of a couple of days, just for one class."
Getting Busy 
Zach's mother, Natasha Cohen, a novelist, also has a 14-year-old son, an eighth-grader, as well as an 18-year-old son who's a senior.
One topic we discussed was busywork.
Yes, there's a need for repetition in learning. But there certainly seems to be too many occasions when students are assigned tasks without a larger purpose in mind.
"Well, let's say it's a math problem and you've learned the math problem, you know how to do it, and then they give you a sheet with 20 practice questions," Natasha lamented.
She also highlighted the stressors that excessive levels of homework can deliver into family life.
"There are actually a lot more kids than people probably realize who are suffering through school every day," Natasha said. "And then they get home and they just have to do all this busywork, and it's just making their life harder."
With all of this in mind, I wondered what districts were doing to address related issues.
Culture Club
At the Bedford Central School District, where the Cohens reside, Superintendent of Schools Dr. Robert Glass told me a new homework policy will soon be adopted.
While it's not yet final or approved by the Board of Education, and additional edits might be looming, the current language in the draft policy essentially says how homework is designed to foster independent study skills, develop responsibility, reinforce in-school learning and prepare students for class participation.
The policy does outline guidelines for time expectations and how assignments will be weighted in grading, taking into account age group, individual student and developmental considerations.
It also emphasizes how homework should not rely on parental/guardian involvement and must be mindful of cultural and religious observances.
But in my amateur view, there's not enough explicit detail addressing the need to keep time requirements manageable.
Even in accepting all of the complexities, I still fail to fully grasp why policy goals can't be developed to generally discourage more than X amount of required after school work per day, with grade level and other variables in mind.
It can be a guideline, not a mandate; a culture change, not a granular decree.
How about we basically ban, at least in general policy spirit, any high school student getting saddled with more than an hour of mandated homework on any given night?
Of course, there are long-term projects, reading assignments and studying, all making it impossible to enact any neat formula. Yet that doesn't mean we can't redouble efforts to keep most of school in school.
Numbers Game
The average high school student spends nearly seven hours per week on homework, according to the National Center for Education Statistics.
Setting aside the highly variable nature of these stats, and even if taking the numbers at face value, also keep in mind how some weeks are obviously far more demanding and stressful than the seven-hour weeks, in order to even arrive at that average. You really only need one grueling homework night per week to torpedo a healthy sleep schedule.
Research has also shown that a whopping 70 percent of teens in the U.S., ages 13 to 17, cite anxiety or depression as significant problems among their peers.
While studies about homework's impact can be murky and often fail to consider all the nuanced and localized factors at play when scholars make grand pronouncements, I did review several serious studies that appear to empirically confirm some common-sense conclusions.
About 10 years ago, social scientists conducted a significant study on the subject, with a sample of more than 4,300 students, focused on 10 high-performing high schools in upper middle class communities.
Students who did more hours of homework experienced greater academic stress, physical health problems and lack of balance in their lives, according to findings published in The Journal of Experimental Education.
Just from a layman and anecdotal perspective, I really can't imagine how this finding could be anything less than unequivocally true.
Party Like it's 1899
It's often easy to accept the status quo as the way it is and the way it always will be, without even giving it much thought.
If you're a parent of a teen in suburbia these days, you might very likely just accept asinine levels of homework as a fact of life for your stressed-out kid. It's become wallpaper for some.
But with all the advocacy parents do around here for their kids, on issues large but also sometimes comically small, I find it remarkable that more of a stink isn't made about the taxing demands of at-home teen life in particular.
Yes, the homework debate is old, and high-profile. It certainly isn't slipping beneath anyone's radar screen. At the same time, I've been surprised to find what strikes me as a general fatalism on the subject – an acceptance that high school students studying through the wee hours and then waking at the crack of dawn is just written into the stars.
"We haven't changed the configuration of a school day since the 19th century," Fox-Alter observed. "Kids deal with it and teachers – your poor wife is in the midst of this – are expected to do more in the same time structure." (My wife is a second-grade teacher.)
The Khan Lab School in Palo Alto, Calif., for example, maintains an extended day better coinciding with parent schedules – 8 a.m. to 6 p.m. – and students are provided the opportunity to complete all of their work at the nonprofit private school, allowing proper time at home for family, hobbies, non-academic interests and rest.
Here in New York, the North Rockland Central School District eliminated all home learning assignments on weekends and school breaks back in 2019, and also enacted daily time limits on how long assignments should take.
The year prior, in 2018, the Long Beach Public Schools in Long Island announced how teachers would no longer be assigning homework to elementary students.
Earlier this year, the president of Ireland even weighed in, stating his desire for an end to homework.
"I think myself, really that the time at home, and the time in the school is an educational experience and it should get finished at the school and people should be able to use their time for other creative things," President Michael Higgins said in January.
Just think about the type of model lifestyle most parents want for their teens and then think about a typical teen's schedule around here.
Many get up by 6:30 a.m., arrive at school by 8, complete classes by 3 p.m. finish a club by 4, play a sport until 6, or take a part-time job, and then arrive at home by 7. Now go eat dinner, do hours of work and get to bed on time! (And don't forget to check in with your friends, spend quality time with family and be in a pleasant mood.)
'A Remarkable Fact'
I didn't hear back on an interview request to Alfie Kohn, who writes and speaks widely on education and parenting. He's known as something of a national anti-homework guru.
But his general view on the topic is the one I share.
Even though we know homework causes stress and conflict, frustration and exhaustion, we tell ourselves the tradeoff is worthwhile, Kohn notes.
"After spending most of the day in school, children are typically given additional assignments to be completed at home – a remarkable fact, when you stop to think about it," he writes on his website.
That's exactly how I feel. Assigning at-home work of any significant volume is sort of crazy, when you stop to think about it.
Some argue the heavy at-home workload burden is necessary to prepare students for the demands of the workforce.
But many of the most transcendent workforce skills – building muscle in collaboration, creativity and critical thinking – can be covered in the classroom.
Also, if you're already in the workforce, see how much gas you'd have left in your tank to tackle, say, math, English, science, social studies and a foreign language after your job this evening.
Homework in most schools, Kohn also explained, is often not limited to those occasions when it strikes educators as appropriate and important.
Kohn sums it up this way: "Rather than saying, 'Doing this particular project at home may be useful,' our message seems to be, 'We've decided ahead of time that students will have to do something every night. Later on, we'll figure out what to make them do.'"
Stress Ball
Just last week, I was told of an area school principal who met with student representatives and that district's board of education.
She told her colleagues how the tension and angst she feels inside her high school is palpable, with student anxiety through the roof.
Her basic message: the kids are not all right.
Even though excessive homework obviously isn't the only culprit – social media, hormones, substances, and families are just a few other variables that jump to mind – it certainly can't be helping the tightly wound stress ball that is adolescent life in 2023.
While many educators advocate for "good homework," not busywork, there can also be too much good homework.
The whole topic can be vexing, with lots of important questions and caveats, and there are few obvious answers or simple solutions.
Yes, homework policy should prioritize learning, not achieving. But it should also be mindful of volume.
Are we sincere when we advocate for adolescents to live healthy, well-rounded lives?
If so, despite the hedging, I still think there's just way too much damn work for students after the school day is done.
We need to give kids a chance to breathe, and hopefully be all right.